Jack Green: Hurdler takes extended break on health grounds
Last updated on .From the section Athletics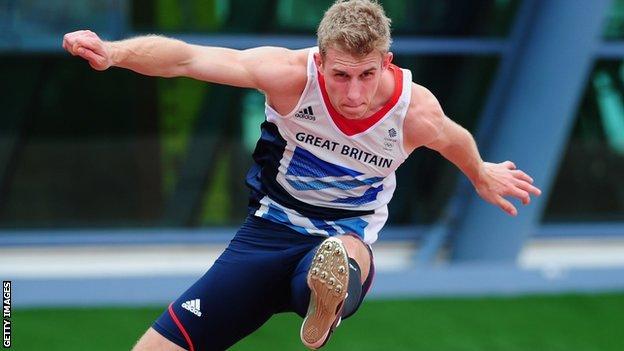 Team GB hurdler Jack Green has revealed he is taking an extended break from the sport to recover from depression.
And the Bath-trained 22-year-old has now given up his place on the World Class Performance Programme in 2014 to recuperate from health issues.
"Those close to me know I have been suffering with depression over the last year," said Kent-born Green.
"Despite a full recovery, I believe a break is necessary for my mental health.
"Athletics at the top level requires an application that I had, disappointingly, not been able to give it in recent times, which made life both on and off the track extremely difficult for me and I need to step back for a period of time.
"I wanted to be open and honest about my reasons for taking this break. I have been lucky to be so well supported during this time by the British Athletics support staff, but I realise this can be a difficult subject matter and if me being honest offers anyone else some support then that can only be a good thing."
Green became European Under-23 400m hurdles champion in 2011 and was also part of the team who finished fourth in the 4x400m relay final at last year's Olympics.
British Athletics performance director Neil Black added: "We fully support Jack in what has obviously been a tough decision and I'm really pleased that he has been open about his reasons.
"We look forward to seeing Jack back in the sport once he has had enough time to recuperate."