Six months on, Lynsey Sharp still waiting on her gold medal
By Jane Lewis
BBC Scotland
Last updated on .From the section Athletics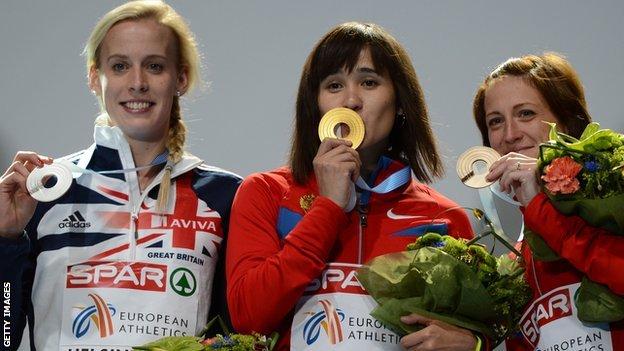 European 800m champion Lynsey Sharp is still waiting for her gold medal - six months after being awarded it.
The Scot finished second behind Yelena Arzhakova in the 2012 European Championships final, but the Russian rival was then banned for doping.
In June, European Athletics amended the records to show Sharp as the winner.
"I've heard nothing from European Athletics, not even to do with the ban or being upgraded," she told BBC Scotland.
Sharp added: "I found out through the phone or through Twitter. So it's strange.
"I don't know if it's because the sport's not proud of it when it does happen and it's just, kind of, trying to do it quietly so that people don't know about it.
"People have said 'is it because they're waiting for her [Arzhakova] to give her medal back?'
"But all the medals were engraved so it's not as if she can just pass that to me. I don't think this is a surprise, I think it happens all the time."
Sharp, 23, says Scottish Athletics have done all they can to secure the medal on her behalf.
UK Athletics have issued the following statement: ''We are working incredibly hard on Lynsey Sharp's behalf to ensure the medal comes back to her.
"We've had positive discussions with European Athletics to ensure she recovers the medal at the appropriate time and place.''
Sharp is the daughter of Scottish sprinter Cameron Sharp, a European 200m silver medallist and Commonwealth gold medallist in the 4x100m.
And although she cherishes her silver medal, Sharp says she is eager to get hold of the gold that is rightly hers.
"That's obviously the one I got at the time, and I can compare it to my dad's silver from his Europeans," she said.
"But now I have been upgraded and it would be nice to get that gold medal and draw a line under it because it's been a difficult year.
"It was a hard thing to deal with, being upgraded. I'd like to get the medal and start afresh.
"There's a Europeans [championships] again next year so I'll be defending my title and it would be nice to at least get it before the next Europeans comes round.
"I think it'll take someone high up to notice it and push for it to happen. It's just a waiting game.
"I don't know if you're just meant to sit around and wait for them to decide when they want to give you it."