Jessica Ennis-Hill's coach Toni Minichiello back in GB fold
Last updated on .From the section Athletics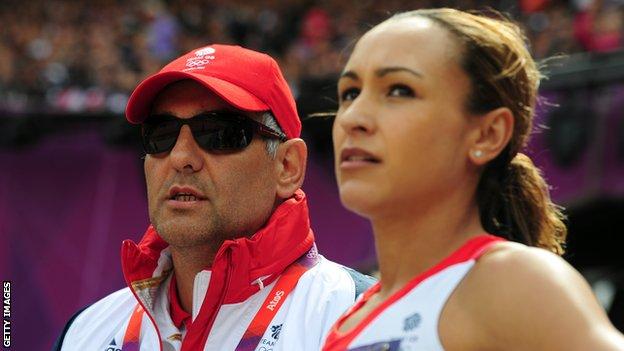 Jessica Ennis-Hill's coach Toni Minichiello has rejoined British Athletics a year after being released.
Minichiello, who guided Ennis-Hill to heptathlon gold at London 2012, was made redundant when the duo declined to move from Sheffield to Loughborough.
But he returned as an athlete-based support coach on 1 December.
British Athletics performance director Neil Black said: "Our job is to ensure Jessica gets everything she needs to continue to be the best in the world."
He added: "Toni is absolutely central to that and the whole system works better for him, for Jessica and for British Athletics when we are all part of the same team."
Minichiello will continue to work with Ennis-Hill in Sheffield and will be able to access support services from the National Performance Institute at Loughborough.
He said: "In the year since leaving British Athletics I've enjoyed the opportunity to work with a number of other sports governing bodies and businesses as well as working with Jessica.
"This has provided some fantastic experiences and learning opportunities - to the extent that I will continue with these activities.
"That said, I've come to realise that my defining passion lies with athletics and my personal drive to be the best athletics coach I can be."
Under Minichiello's guidance, Ennis-Hill became one of the stars of the 2012 Olympics, winning heptathlon gold on Super Saturday.