Keith Gerrard selected for GB & NI at European Championships
Last updated on .From the section Athletics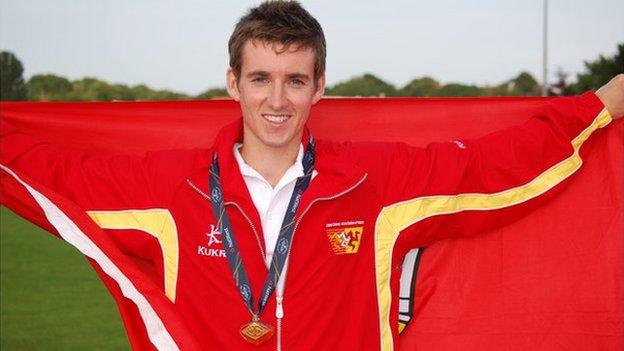 Manx athlete Keith Gerrard has secured a place in the Great Britain and Northern Ireland cross-country team for the European Championships in Belgrade.
He was chosen after finishing third in the British trials held in Sefton Park, Liverpool, at the weekend.
In was the Isle of Man athlete's first competitive outing of the season and his performance gave him an automatic place in the six-man team.
The 27-year-old from Peel has been training at altitude in Albuquerque.
He said: "I've had a good training two-month block in New Mexico, but I needed a fast race to sharpen up for the championships.
"It's like my second home now and I have a great training network out there. I feel really healthy and if all goes well I really feel I can be right up at the front in Belgrade."
The Manx runner describes his summer as "unspectacular" but still managed to claim a silver medal in the men's 10,000m at the British Championships.
"It was definitely my summer highlight," he added. "Last year I fell ill with flu before the Europeans and it was a disaster. I just didn't recover in time, but this year I will be ready."
This year's European Championships will be held in Belgrade, Serbia, on Sunday, 8 December.
Senior Men
Tom Farrell (Dave Smith) - Border/Oklahoma State Uni; Keith Gerrard (Art Acevedo) - Newham & Essex Beagles; Adam Hickey (Eamonn Martin) - Southend; Charlie Hulson (Paul Roden) - Sale Harriers Manchester; Frank Tickner (Clive Thomas) - Wells City Harriers; Andy Vernon (Nic Bideau) - Aldershot, Farnham & District.