Anti-doping: Jamaican resignations address some Wada worries

By David Bond
BBC sports editor
Last updated on .From the section Athletics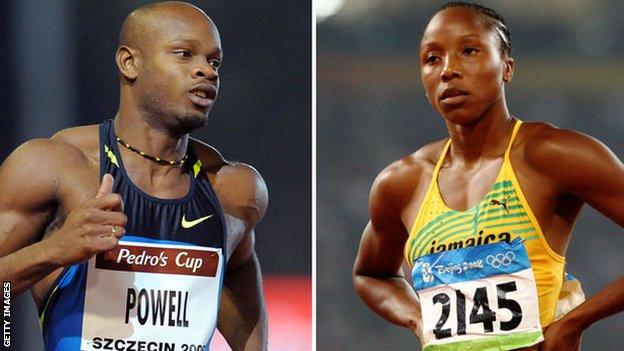 "A step in the right direction" is how the United States anti-doping chief Travis Tygart described it.
That's because many of the board members were also senior figures in Jamaican sports administration.
The controversial and outspoken chairman of Jadco, Herb Elliot, was the team doctor for the Jamaican team at the 2008 Olympics in Beijing, Molly Rhone is president of Jamaican Netball, Professor Rainford Wilks is heavily involved in track and field, and Mike Fennell doubled up as head of the Caribbean island's Olympic Association.
When I met Fennell in Jamaica a fortnight ago, he told me that those members of Jadco who were also closely involved in running sport in Jamaica were of the highest integrity.
He also said that in a country of just under three million people there wasn't a vast pool of candidates with the right level of experience to choose from.
These are no doubt fair points. But no credible anti-doping agency can operate in this way.
In Britain, the authorities long ago realised that it was simply inappropriate to have an anti-doping organisation under the same roof as UK Sport - the agency ultimately responsible for funding and developing our top Olympians. Regardless of how the two organisations operated in reality, the perception was what counted and in the end a new independent agency was established.
No matter the integrity of the individuals involved in Jamaica, it just doesn't look good at a time when the country's athletes have put them firmly in the spotlight with their extraordinary achievements.
And so Jamaica's government deserves credit for responding to the anxiety of Wada - the global doping watchdog - on this question.
But we have been here before.
Back in 2010 the board of Jadco was dissolved after Wada's general secretary David Howman made the point that several directors were also leading figures from the sporting world. A few months later, when it was reconstituted, the same thing happened again.
Much now depends on how the Jamaican sports minister Natalie Neita Headley handles the appointment of new board members in the coming weeks.
But even if Jamaica gets it right this time, there are still many more issues for the country to tackle. And the new Wada president Sir Craig Reedie made it very clear following the World Anti-Doping Conference in South Africa last week that the pressure is still on.
After last summer's rash of positive drug tests for Jamaican athletes, the world is questioning how Jamaica became such a global force in track and field.
No matter who sits on the Jadco board, this is a question of how extensive Jamaica's testing regime now becomes. As senior tester Dr Paul Wright pointed out in his interview with the BBC earlier this month, there is still no blood testing, EPO testing or unannounced out-of-competition testing being carried out in Jamaica.
Public confidence in Jamaica's outstanding athletes won't be truly restored until that happens.