Jamaica anti-doping board resigns over drug-testing crisis
Last updated on .From the section Athletics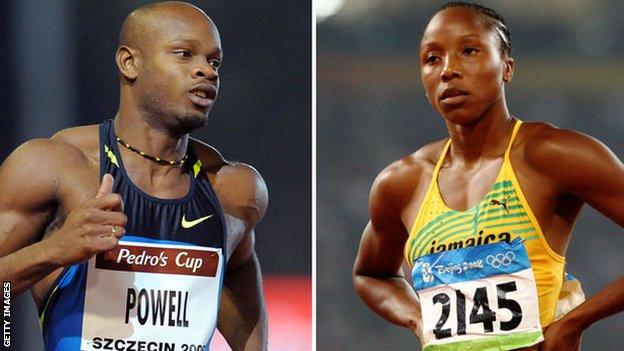 The Jamaican Anti-Doping Commission's (Jadco) board has resigned in the wake of a drug-testing crisis.
Concerns that Jamaica's athletes have not been tested rigorously enough led to an emergency visit from the World Anti-Doping Agency (Wada) this month.
The Caribbean island's sports minister Natalie Neita-Headley said the government "respected" the decision of 11 Jadco commissioners to resign.
Six Jamaican athletes have tested positive for banned substances in 2013.
They include former 100m world-record holder Asafa Powell and Sherone Simpson, an Olympic relay gold medallist at the 2004 Athens Games.
In a statement, Neita-Headley said: "Quite recently, Jadco's commissioners met and acknowledged that there is a public perception of the existence of conflicts of interests among some of the members of the commission.
"The commissioners have taken a decision, in the national interest and in order to facilitate the re-structuring of Jadco, to tender their resignations which will take effect on 31 December 2013. The Prime Minister respects the decision of the commissioners and has accepted their resignations."
Following the positive tests, former Jadco executive director Renee Anne Shirley revealed that the agency conducted just one out-of-competition test in the six months leading up to last year's Olympics.
Dr Paul Wright, the country's most senior drug tester, subsequently told the BBC recently that Jamaica's rash of failed tests might be the "tip of an iceberg".
That angered Jamaica's double Olympic 100m champion Shelly-Ann Fraser-Pryce, who said that those comments "hurt" and that the athletics authorities needed to "stand by" their athletes.
She threatened to refuse to run in major events unless the authorities gave greater help to athletes.
Fraser-Pryce added that she was in advanced talks to set up a union in Jamaica to give athletes a voice and to offer support and education from 2014.
Her comments were backed by incoming Wada president Sir Craig Reedie, who said that a boycott would be "welcome" if it helped to clean up Jamaican athletics.
Jamaica's six-time Olympic champion Usain Bolt has also spoken out over the crisis, claiming it could cost him a lucrative sponsorship deal at the 2016 Olympics in Rio.
Wada has the option to declare Jadco "non-compliant" if it fails to resolve its problems, but Neita-Headley pointed out that such a sanction has not been taken.
She said: "At no time has Wada ever deemed Jamaica or Jadco to be non-compliant. At no time has Wada threatened to bar Jamaica or Jamaican athletes from participating in any international event - Olympic Games, World Championship or the like.
"As we continue to build on this rich sporting legacy, the Government of Jamaica will continue to do whatever it can to protect our good name and reputation and in the maintenance of a doping-free sporting environment."