Goldie Sayers: Javelin star wins appeal against funding cut
Last updated on .From the section Athletics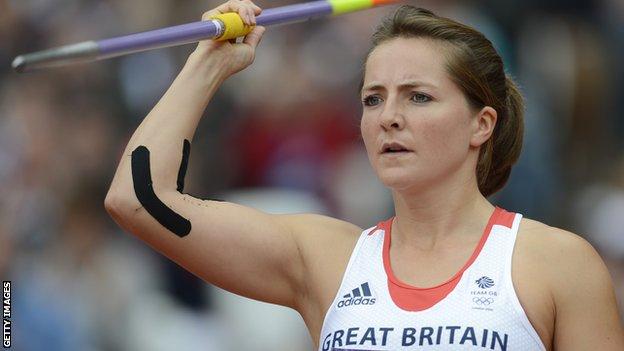 British javelin record-holder Goldie Sayers will receive lottery funding after successfully appealing against
"I'm delighted my appeal was successful," Sayers said.
"I was naturally disappointed not to be included first time around but nonetheless I'm even more determined to make 2014 and beyond a success."
Sayers broke her own British record at a Diamond League meeting shortly before London 2012, but tore elbow ligaments in the process.
A repeat of her record throw of 66.17m would have been good enough to win silver at last year's Olympics, but the injury ruined her medal chances and she failed to qualify for the final.
UK Sport provides lottery funding for athletes, but decisions about who should receive it are taken by British Athletics.
They changed the criteria for the next allocation period, so that only athletes considered realistic medal contenders for the Rio 2016 Olympics are eligible for 'podium' funding.
Previously, funding awards were made to those thought likely to qualify for finals.
In her appeal, Sayers, who has and is in winter training, successfully convinced officials she still has the ability to challenge for medals.
"I'm now back on the right path after surgery and back in full training after a successful period of rehab," she said. "I am now preparing for the Commonwealth Games and the European Championships next year."
British Athletics performance director Neil Black said: "Goldie presented a very strong case for her inclusion on the World Class Performance Programme.
"The panel reviewed their original decision after being presented with Goldie's appeal submission and a decision was made to include her on the World Class Performance Programme for 2013-14."