Ashleigh Nelson: Stoke athlete pleased to get lottery recognition
Last updated on .From the section Athletics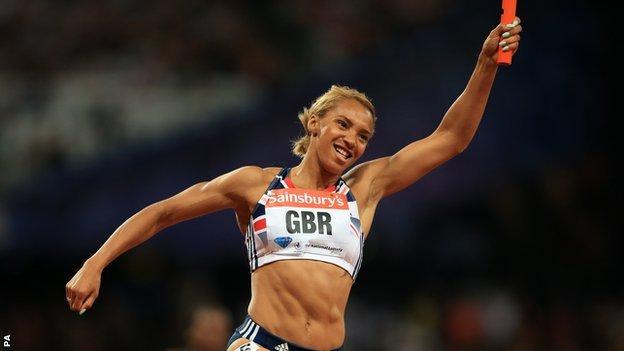 Stoke-on-Trent athlete Ashleigh Nelson plans to keep her own conditioning team together despite being handed lottery funding for 2013-14.
Nelson was out injured when the GB ladies' ladies sprint relay team failed to qualify for the 2012 Olympics.
But Nelson, Annabelle Lewis, Hayley Jones and Dina Lewis-Asher won 4x100 World Championship bronze in Moscow.
"It's nice to get that recognition but I still want to keep everything the same," Nelson told BBC Radio Stoke.
"My attitude is 'if it ain't broke, don't fix it'.
"You still have to have a big involvement in who's taking care of you. It's your body. It's your career.
"At 14 or 15, I was one of the youngest to be on funding, but it wasn't until I got taken off it that I got my own team together, my own physio, my own nutritionist, my own soft tissue specialist, my own psychologist.
"And I don't think it was any coincidence that the following year I won my first Three 'A's seniors title and have now got a World Championship medal too."
Nelson, 22, has still not given up on the pursuit of future individual glory, having three times set a new personal best this year - and the next Olympics in Rio in 2016 remains her number one target.
"I'd love to do that and I'll give it all I've got," she said. "I went to Beijing in 2008 for experience. Then I missed out on London through injury.
"It'll take some going but I'm in this sport to win and to progress."
The Stoke athlete knows her main hope, however, is with the relay squad.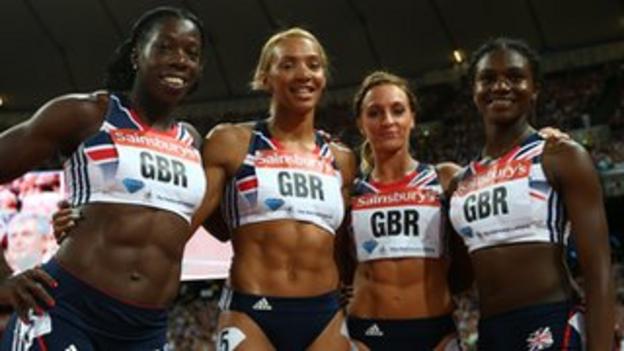 "The World Championships in Moscow proved a strange experience," she added. "We finished fourth, then got boosted up to third after another team got disqualified.
"But they're a great group, everyone gets on really well, there's no egos in the team and we're relatively young."
Former world triple jump champion Phillips Idowu and previous medal-winners Andy Turner, Jenny Meadows and Lisa Dobriskey have all lost their funding, along with Stoke pole vaulter Steve Lewis.
"Steve's a great guy," said Nelson. "He'll be okay, although it's a bit upsetting.
"When you've got a governing body who looks after you, it's like they're your family and, when that's taken away, you feel almost betrayed.
"Even though Steve has not performed how he wanted to, he'll have been working just as hard and you almost feel 'I need you the most now when I'm not at the level I want to be at and you're taking it away from me'.
"But he's a great athlete and I'm sure he'll be back where he wants to be in no time."