Christine Ohuruogu one of Britain's greatest athletes - Steve Cram

By Steve Cram
BBC athletics commentator in Moscow
Last updated on .From the section Athletics
Christine Ohuruogu became the first British woman to win two world titles when she beat Amantle Montsho to 400m gold in a photo finish in Moscow. In an extraordinary race, the 29-year-old also broke Kathy Cook's 29-year British record and now stands alongside Jonathan Edwards and Daley Thompson with three major championship gold medals. Mo Farah, with four major titles, is the only Briton to win more.
In his latest column, Steve Cram says the 2008 Olympic champion is one of Britain's greatest athletes and believes she should now receive the recognition she has long since deserved.
GREAT BRITON
What an incredible performance. I've never commentated on such a close race, certainly not one involving a British athlete.
We've had some great athletes over the years. Seb Coe and Daley Thompson are often regarded as Britain's best, but Christine has to be up there.
Christine has not received the credit she deserves, or the respect she deserves, from some aspects of the media and, therefore, the public because she's not been pushed forward as a big star.
Some of that has been of Christine's doing. She doesn't necessarily like that aspect of it all, she doesn't chase publicity, and perhaps that's why she doesn't get written about as much.
Christine is so popular with the team, so popular with myself, because we know how difficult it is to be at your best for major championships time and time again.
But I really hope she will now rightfully be seen alongside the greatest of the greats.
IT ISN'T OVER UNTIL IT'S OVER
When we talk about dipping for the line, it's regarded as a cliche - but not everybody does and Montsho certainly didn't and paid the price.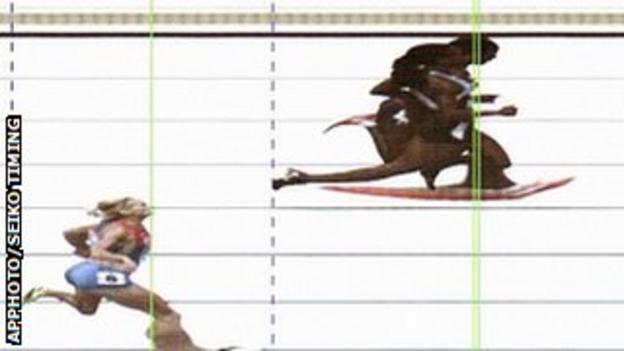 On countless occasions, Christine has illustrated that races are won and lost in the last four to five metres.
She's won four championship medals in the last few metres; her gold in 2007 in Osaka was a late one, she came through and passed Sanya Richards in Beijing in 2008 and last year did the same to win silver in London.
She grabs medals from others and people should take that on board and use Christine as an example because she's brilliant at it.
Montsho was very confident before the race, and rightly so. Perhaps she couldn't see how she was going to get beaten and, then, in the last five metres she was ahead and probably thought that was it.
LATE SURGES NO COINCIDENCE
Christine produces those come-from-behind victories time and time again because she manages herself well, prioritises championships and knows when she has to be at her best.
She's good at focusing on the main job and, of course, it's not just Christine who is involved. Her coach Lloyd Cowan has to take a lot of credit. Her team gets her in shape and she does the next bit.
Christine thrives in the atmosphere of a big event, she thrives in running three races back-to-back, getting stronger and stronger, and not everybody does.
Other than Usain Bolt, I don't think anyone else has that big-time competitiveness.
Bolt saves his best for the big races but there's such a gap between him and the rest. Christine doesn't have that luxury. She's been fifth, sixth in the world and then - bang - she wins a medal. She was better placed this year but she still wasn't inside the top three in the world.
She doesn't care about what someone has run in a Diamond League meeting in Eugene or Paris.
This year, Christine wanted to win in Birmingham. She did. She wanted to win in London in front of her home crowd. She did. She wanted to win in Moscow. She did.
NO EGO AND ENJOYING LIFE
Christine doesn't mind getting beaten when it doesn't matter so she has no ego about losing in Diamond Leagues.
Last week Christine said she's been having fun this year and that's been evident because she's been running a lot more races.
On the back of running her fastest time outside of a major championships at the Anniversary Games, she's been more relaxed coming into these championships.
She then ran her fastest ever time in a heat, so we knew she was in better shape than she had been before, so it was somewhat inevitable that she would run the quickest race of her life in the final.
I know Kathy won't mind losing her British record to Christine. You want to lose your record to a world champion.
Steve was talking to BBC Sport's Aimee Lewis