World Athletics 2013: Christine Ohuruogu wins gold in photo finish
By Aimee Lewis
BBC Sport in Moscow
Last updated on .From the section Athletics414
Christine Ohuruogu produced another thrilling late surge in the 400m to become the first British female to win two World Championship titles.
Both Ohuruogu and Montsho clocked 49.41 seconds, but it was the Briton who was deemed the winner by four thousandths of a second.
Ohuruogu, the 2007 world champion, gasped in astonishment as she learned of her victory.
Montsho, 30, had victory within her grasp and even as the two athletes stood on the finishing line, anxiously awaiting the final result, Ohuruogu gave the impression that her perfectly-timed dip had not been enough.
But after closer inspection, it was revealed that the Londoner had crossed the line in 49.404, while Montsho, who failed to dip, finished in 49.408.
Ohuruogu, who had been fourth coming round the final bend after a steady start, shook her rival's hand before draping herself in a giant union flag to celebrate her victory.
The Briton told BBC Sport: "I can't believe I've done that, it feels like a dream. It is what I have been working towards all season.
"It was so tight on the line and I was so desperate to win it. I just wanted my name to come up.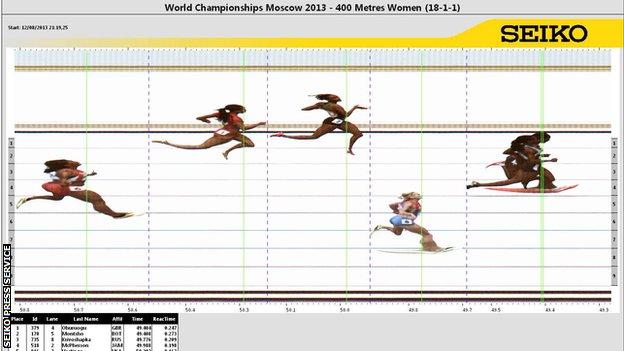 "The last couple of days have been really tough and I just want to thank everyone who helped me. It feels really surreal and strange, it doesn't feel like I'm really here.
"I was thinking do what you can, just get over the line. The icing on the cake is the national record, that's all I wanted.
"Whatever you want just go for it, I am really happy I kept believing and trusting in what I could do."
Ohurougu could not stem the tears as she stood on top of the podium alongside Montsho and Russia's Antonina Krivoshapka. She attempted to sing the anthem, but the emotion was too much.
The British captain, who had earlier this week told her team to "burn the ships" in a rallying speech, had given it her all and had nothing left after securing a second gold of the championships for Britain following Mo Farah's 10,000m triumph on the opening day.
Ohuruogu, described by UK Athletics performance director Neil Black, as one of Britain's greatest ever athletes, was chosen to captain the British team for her ability to peak for championship finals.
It was come-from-nowhere dashes which helped her become world champion in 2007 and Olympic champion a year later, and the Briton left it late in London 12 months ago, propelling herself from sixth to second - with Montsho one of the athletes overtaken at the Olympic Stadium - to win Olympic silver.
Montsho was the pre-race favourite - her personal best of 49.33, set in Monaco in July, the quickest time in the world this year.
But Ohuruogu has a habit of beating opponents of supposedly superior credentials. She did so to become Commonwealth, world and Olympic champion, and did it again in Moscow in perhaps her most memorable race of all.
A disappointed Montsho said: "I always have a bad finish. I don't know how to dip in a race. I didn't see Christine when she came. If I saw her I could maybe have put my chest out and made it."
Will Sharman was disappointed not to follow his captain's success with a medal of his own in the 110m hurdles.
Having finished the previous two world finals in fourth and joint fifth place respectively, a time of 13.30 seconds saw him cross the line in fifth again in a race won by American David Oliver.
"I'm not very pleased with that, I made a mistake off hurdle one and it was hard work from there," Sharman said.
"It's good to make the final but once you're in the final you have to get a medal and all I needed to do was to perform to the best of my ability. I can't wake up tomorrow morning and say I did that."
Fellow Britons Asha Philip and Nigel Levine were unable to make the finals of their events, the 100m and 400m respectively, as they failed to advance from the semi-finals.