World Athletics 2013: Christine Ohuruogu reaches 400m final
Last updated on .From the section Athletics
Former world and Olympic champion Christine Ohuruogu qualified in style for the 400m final at the World Championships in Moscow.
The British captain won her heat in a season's best of 49.75 seconds, behind only reigning champion Amantle Montsho.
Andrew Osagie reached the 800m final with a time of one minute 44.85 seconds, but Michael Rimmer missed out.
Shara Proctor finished out of the medals in sixth place in the long jump with a best of 6.79 metres.
American Brittney Reese took gold with 7.01m, ahead of Nigeria's Blessing Okagbare (6.99m) and Serbian Ivana Spanovic (6.82m).
"I gave it my all but unfortunately for me both calves cramped up and I wasn't able to jump at my best potential," Proctor told BBC Sport.
"There's nothing I could have done. The first jump I was feeling good and healthy, but every jump after that my calf just cramped up."
Ethiopia's Tirunesh Dibaba won the 10,000m in 30:43.37 to claim the fifth world title of her career, while American Ashton Eaton took decathlon gold.
Ohuruogu paced her semi-final superbly, coming from some distance behind after 200m and powering past American Natasha Hastings in the closing stages.
Botswana's Montsho was even more impressive in the previous semi-final as she cruised to victory in 49.56 seconds.
"We absolutely can't take anything for granted tomorrow," said Ohuruogu's coach Lloyd Cowan.
"There are six girls inside 50 seconds and most of them are going to be even closer to the line in the final."
Osagie made the 800m final after finishing fourth in his heat, and said: "The aim today was always to get a season's best, after a difficult season."
Fellow Britons Hannah England (1500m), Will Sharman (110m hurdles), Nigel Levine (400m) and Asha Philip (100m) qualified for semi-finals in Sunday's morning session.
England produced a strong finish to ease through in third in her 1500m heat in four minutes 8.05 seconds.
"I thought I ran a pretty good race until the bell and then suddenly there was a bit of pushing and shoving and I was way back," she told BBC Sport.
"But I just had to relax and tried not to panic. I knew I had a strong last lap and could turn it on coming into the last 100m and get into the top six."
Laura Weightman, who was left on crutches after a fall at the British trials two weeks ago, finished 11th in her heat in some distress.
"I knew it was going to be tough," she said. "I felt OK for the first 600m but after that I just didn't have anything in my legs.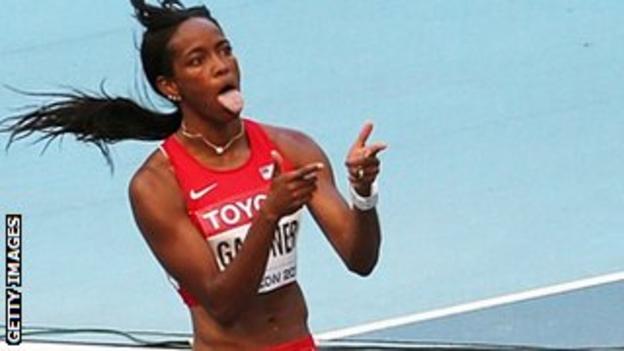 "I tried to give it everything I had but I just couldn't match the pace of the other girls. It is disappointing I couldn't perform any better but I have to thank everyone who helped me get to the start line."
Sharman was upbeat about his prospects after finishing third in his 110m hurdles heat in 13.51 seconds.
"I am so relieved," said the 28-year-old. "That is the mundane part over. Tomorrow is when the boys get rough and ready and I am really looking forward to the semi-finals. All I need is a good night's sleep."
David Oliver was the fastest qualifier in 13.05 seconds, while Olympic champion Aries Merritt (13.32) and fellow Americans Jason Richardson (13.33) and Ryan Wilson (13.37) also won their heats.
Levine reached the 400m semi-finals after finishing fourth from lane two in his heat in 45.41 seconds.
"I would have liked to have come in the top two," he said. "I was leading coming off the bend but I tied up in the end. But am through and hopefully I will get a better lane tomorrow and qualify for the final."
American LaShawn Merritt (44.91) and Olympic champion Kirani James (45.00) - who between them have the 10 fastest times this year - both cruised into Monday's semi-finals.
Philip finished third in her heat in 11.29 seconds to reach the women's 100m semi-finals.
American English Gardner (10.94) was the most impressive qualifier, while Jamaicans Kerron Stewart (11.02) and double Olympic champion Shelly-Ann Fraser Pryce (11.14) and Okagbare (11.03) also won their heats in some comfort.
Defending champion Carmelita Jeter, whose participation was in some doubt after a quadricep injury, also progressed by finishing second in her heat in 11.24 behind Murielle Ahoure of the Ivory Coast (11.22).
Croatia's Sandra Perkovic won the women's discus with a throw of 67.99m, and Aleksandr Ivanov gave hosts Russia their first gold of the week - and the country's third successive title - in the 20km walk.