Four-year doping bans for athletes to be reintroduced by the IAAF
Last updated on .From the section Athletics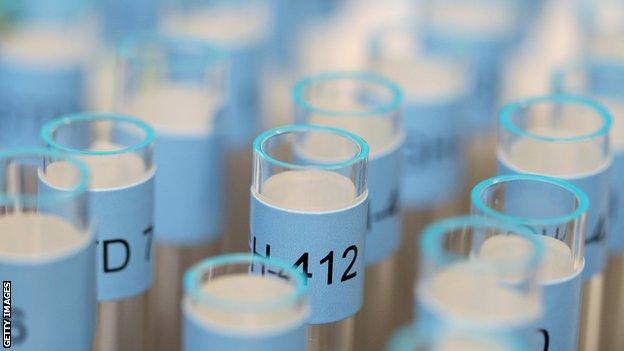 Athletes found guilty of doping will be given a four-year ban from 2015, the International Association of Athletics Federations (IAAF) has announced.
The length of bans was cut from four to two years in 1997 to bring it in line with other international sports bodies.
After a number of high-profile cases, the IAAF has opted to revert to four.
"The IAAF has an ethical obligation to the overwhelming majority of athletes and officials who believe in clean sport," it said in a statement.
Athletics has had to deal with a series of doping revelations recently, with news that two of the fastest four 100m men of all time - Tyson Gay and Asafa Powell - had failed drug tests on the same day last month.
The IAAF wants the World Anti-Doping Agency (Wada) to increase its bans across all sports but insists it will press ahead with four-year bans anyway.
"The new Wada code, which will come into force on 1 January, 2015, will reflect our firm commitment to have tougher penalties and the IAAF will return to four-year sanctions for serious doping offences," the IAAF said.
"As a leader in this fight the IAAF has built and delivers a programme that is well resourced, far reaching, sophisticated and increasingly able to detect and remove from the sport those who breach our anti-doping rules."
Along with the Gay and Powell revelations, the sport has seen 31 Turkish athletes, including Olympic medallist Esref Apak, given two-year suspensions for doping.
Jamaican sprinter Sherone Simpson and discus thrower Allison Randall also failed drug tests in July.
IAAF vice-president Sergey Bubka longer suspensions were necessary to eradicate doping in athletics.
"It's the only way to succeed - we must be harsh, we must be strong," said the Ukrainian, a former Olympic pole vault champion and six-time world champion.
"Clearly today it's unpleasant to see some positive cases but we can see systems start to work, and really well.
"We will continue to fight. We understand it is tough but we are getting stronger and we will continue to do our best."
Some of athletics' biggest names called for the ban to be increased, including double Olympic champion and London 2012 chairman Sebastian Coe.
Lord Coe told BBC Radio 5 live's Sportsweek: "We have to go back from two years to four years. The move down to two did a lot of damage to my sport."