Marlon Devonish: Olympic gold medallist announces retirement
Last updated on .From the section Athletics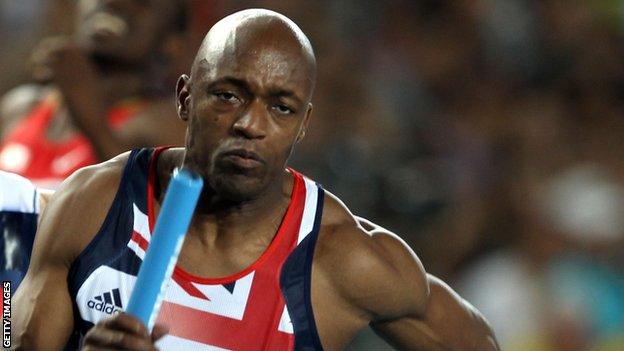 British Olympic 4x100m gold medallist Marlon Devonish has announced his retirement from athletics.
"I enjoyed the most incredible career and had the privilege of competing and winning medals for my country for 16 years," the 37-year-old sprinter said.
"But I'm getting older now and there are quicker athletes out there."
Devonish failed to qualify for the London 2012 track team, but competed for Britain in the three previous Olympics.
His finest moment came in Greece nine years ago alongside Jason Gardener, Mark Lewis-Francis and Darren Campbell, as the quartet edged out clear favourites the United States to the gold medal.
"I'm going to focus my energies on coaching and public speaking," he added.
"I want to coach within athletics and recently did a stint working with the GB relay team, but I will also work outside of the sport delivering sprint coaching in football, cricket and rugby."
Devonish was also part of the English 4x100m teams that took gold in the 1998,2002 and 2010 Commonwealth Games.