Robbie Grabarz pulls out of European Team Championships
Last updated on .From the section Athletics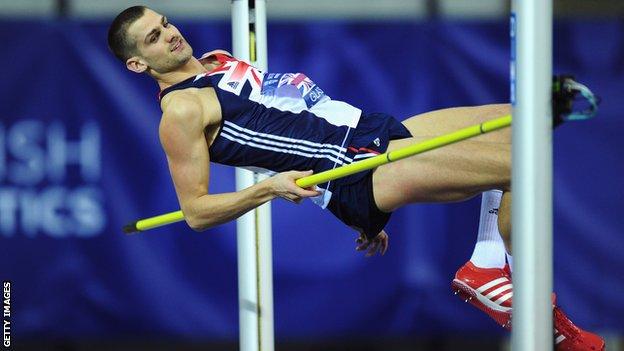 A knee injury has forced Olympic bronze medallist Robbie Grabarz to pull out of the European Athletics Team Championships.
The high jumper, 25, has withdrawn from the Great Britain and Northern Ireland squad for the event at Gateshead on 22 and 23 June.
He is being replaced by Tom Parsons.
"Tom is showing a great return to form and it is good to see him back," said British Athletics head coach Peter Eriksson.
Pole vaulter Steve Lewis, 3,000m steeplechase runner Eilish McColgan and javelin thrower Freya Jones have also dropped out of the Gateshead event.
The trio are being replaced by Andrew Sutcliffe, Lennie Waite and Izzy Jeffs respectively.
Eriksson added: "Whilst it is disappointing to lose some great athletes from the team, with every disappointment comes an opportunity.
"Andrew is also looking good and it is also a good opportunity for Lennie and Izzy to make their mark at this level in front of the home crowd.
"I'm happy that the athletes stepping in can bring home the points needed to have a successful weekend."