Jessica Ennis-Hill to make comeback in heptathlon - coach
Last updated on .From the section Athletics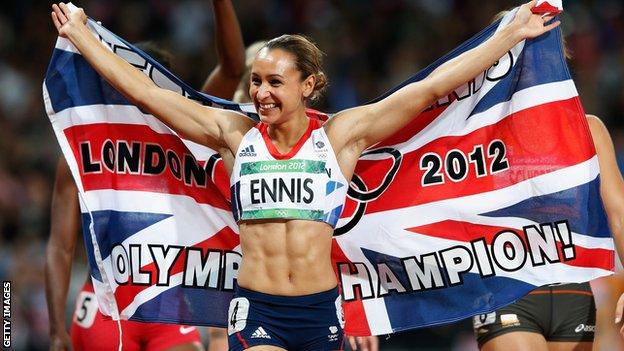 Olympic champion Jessica Ennis-Hill is on track to compete in her first heptathlon since London 2012 at the end of the month, her coach has confirmed.
Toni Minichiello said he was happy that Ennis-Hill's ankle injury was healing.
The Briton, 27, missed the start of the season but is set to compete at the Combined Events Challenge in Tallinn, Estonia, on 29 and 30 June.
"That's the plan - we'll go to Tallinn and compete in that heptathlon there," Minichiello told BBC Radio 5 live.
Sheffield-based Ennis-Hill pulled out of the season's opening two competitions - last Saturday's Women's Athletic League meeting in Edinburgh and Thursday night's Diamond League meeting in Oslo.
She was advised to rest rather than risk aggravating it, with only two months to go until the World Championships in Moscow.
Minichiello said: "She's had a bit of a recurrence of an injury in her ankle. It's not her Achilles tendon, it's the pad that sits underneath the Achilles tendon and that aggravates the tendon and therefore you get a little bit of pain.
"That's well on its way to mending now, so we're much happier with how it's reacting."
Asked if Ennis-Hill would be ready for Tallinn, her next scheduled competition, he said: "Definitely, with the way things are responding at the minute, I don't see that as being a problem."
After winning heptathlon gold at the 2012 Olympics, Ennis-Hill opted to miss the indoor season. She intended to start the outdoor campaign later than usual following her wedding in May.
But Minichiello said she was not playing catch-up with her fitness.
He added: "I don't think she's behind at all. I think all we've done different this year is we've decided to start the season later.
"She's in really good shape, physically strong in the gym, running well. I don't think we're a million miles away from where we want to be."