Hospital doctor Paul Pollock targets sub-2:10 marathon
By John Haughey
BBC Sport NI
Last updated on .From the section Athletics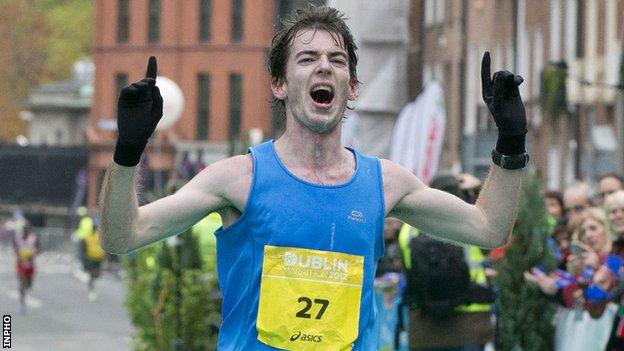 "You wake up early. Get your 10-mile run done. Then maybe do a 13-hour shift and then run home to get another five miles in."
The lot of Paul Pollock, trainee doctor at Belfast's Royal Victoria Hospital, and marathon runner.
But it's all said matter of factly and without a hint of complaint.
Two weeks ago, the 26-year-old came home from one of those 13-hour shifts - and his second run of the day - and was suddenly jolted by an email from Athletics Ireland telling him of his selection for the World Championships in Moscow in August.
"I was completely taken by surprise but I was delighted," adds the Holywood man, who only started running as a 17-year-old, but whose talent was quickly spotted by respected and much-missed coach, the late Bobby Rea.
"I had run 2:16.30 in my first marathon in Dublin last autumn [which was under the IAAF's standard of 2:17] but Athletics Ireland then lowered their A standard to 2:13 so I thought I would have to run that so I ran London and had a disappointing run there [2:17.10].
"I thought that was the end of my chances but I'm glad they have decided to take a chance on me and let me have this opportunity to represent my country."
Pollock's selection completed a remarkable turnaround in his fortunes over the last 18 months.
The Annadale Strider started 2012 still having ambitions of competing in the Olympic Marathon in London but those hopes were destroyed in an instant a few weeks later as he sustained a serious knee injury while on a training run.
"Basically, I went around a corner too fast and hurt my knee and ended up needing surgery.
"Initially, I thought I would only be a couple of weeks out but it was actually April or May before I could even get back walking.
"I was completely off my feet during that period and was actually very lucky that I managed to get surgery so quickly.
"But I was back building up the miles again from the following May/June and thankfully everything has turned out well since then."
While there is no disguising Pollock's surprise and delight at being selected for his first summer major championship, there is no doubt either about the athlete's ambition and self-belief.
John Treacy remains the only Irishman ever to have run under 2:10 for the marathon, a record that amazingly dates back to 1984 and his 2:09:15 Olympic silver medal-winning run in Los Angeles. Mark Carroll is the next fastest on the Irish all-time list at 2:10:54 - and even that is more than 10 years ago.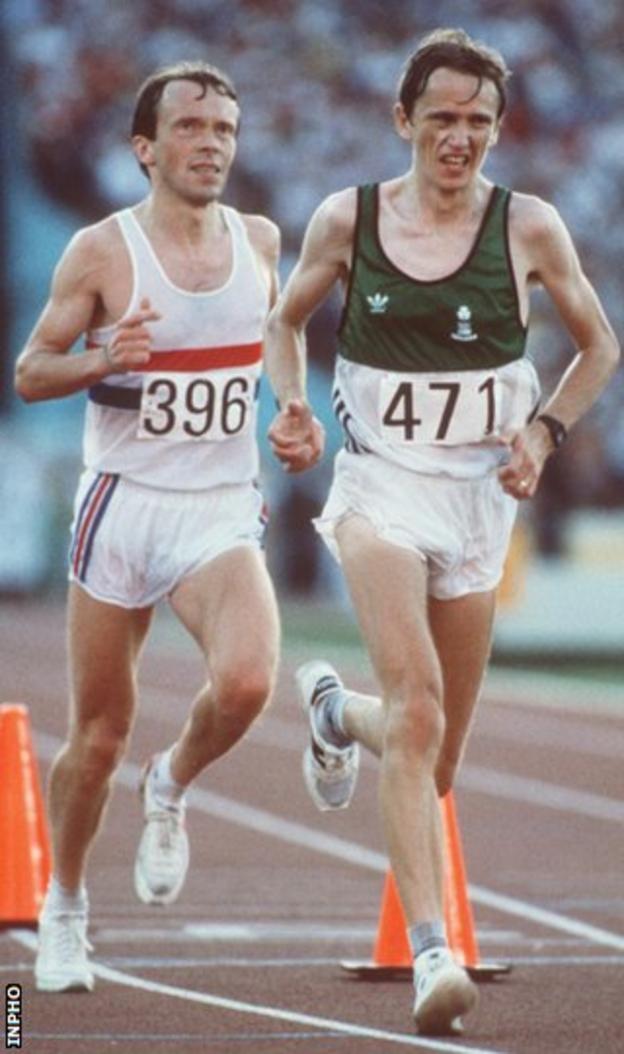 But Pollock believes a sub-2:10 time will be within his compass as his marathon career progresses over the next few years.
"Going into London this year, I was in the best shape I've ever been in and pretty confident that I was in shape to run under 2:12, if not sub-2:10.
"Sadly that didn't work out but I don't see why I can't run 2:10. It's realistic and given a year or two, I would like to think I could do it.
"I was a lot fitter going into London [than Dublin] and myself and one of the English guys, Scott Overall, and an American decided we would all go at 2:10 pace and we stuck at that quite comfortably before Scott unfortunately dropped out at 16 miles because of injury.
"I tried to pick it up to maintain that pace but I blew up shortly after that."
In theory, Pollock's marathon ambitions should be helped by his plan to put his medical career on hold for two years after the World Championships.
"I hope to be in a situation where I can take a couple of years out and concentrate on running a bit more," he says.
"This year I've been working as an F2, which used to be known as a senior house officer.
"You have to pick and choose when you can go out and see friends, and fit that around both work and athletics."
Prior to beginning his stint at the Royal Victoria Hospital, Pollock was based in Teddington in London and the Holywood man plans to head back there this autumn and work alongside other athletes also guided by his coach Andy Hobdell.
But before that, there is the small matter of Moscow and the World Championships for Pollock, whose previous championship experience is confined to three outings at the European Cross Country tests.
"It will be a championship race and will be a lot slower than one of the major city marathons, I would imagine.
"Hopefully, there will be a group there to stick with until the end.
"It's all about getting stuck in and making sure that I am in the right place and, more importantly, that I get to the start line as fit as possible."
Paul Pollock has come too far and battled too hard to put limits on what he can achieve.