Usain Bolt: Danny Talbot ready to face idol in Diamond League
Last updated on .From the section Athletics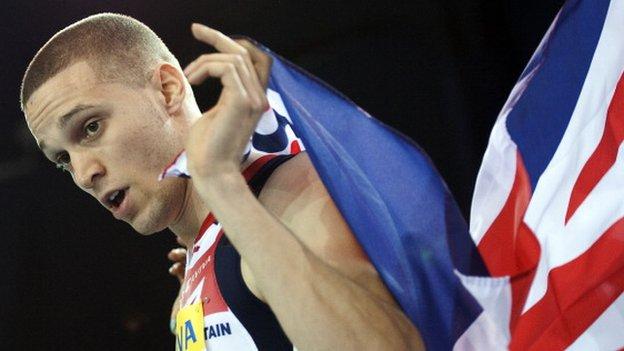 Wiltshire's Danny Talbot says he will fulfil a five-year dream when he faces idol Usain Bolt in the Diamond League.
The 200m specialist from Trowbridge will race world record holder Bolt for the first time in Oslo on Thursday.
But even a race against Bolt will be regarded by the 22-year-old as practice for his long-term goal of competing for medals at the 2016 Rio Olympics.
"For me, every year and every race up until then is almost practising for that moment," he told BBC Wiltshire.
"This year is a great opportunity to try and lay some foundations for future years. I'm still young in sprinting terms.
"In my head, I think I can realistically be challenging for medals in 2016. For me, every year and race up until then is almost practising for that moment. Hopefully, I'll be peaking for 2016 and the World Championships in London in 2017."
The sprinter, who trains at the University of Bath, won bronze in the 200m at the 2012 European Championships in Finland and was a member of Team GB's 4x100m relay team at the London Olympics.
While he will try and focus on his own performance in Oslo, Talbot admits Bolt's presence changes the complexion of the evening.
"I try not to look up to too many people in athletics because you obviously hope you are going to beat them one day," he added.
"Even though I've run at the Olympics, in some ways this will probably be a tougher race. I had my team-mates with me in the relay, but now it will just be me on the track against one of my idols and arguably the greatest athlete that's ever lived.
"I've been looking forward to racing him since 2008 in Beijing when he won the Olympics. From that moment it's been a dream of mine to race him.
"When I'm on the track I won't be there to come second and make up the numbers, I want to win every race I'm entered into.
"But if I can be close to him I'll probably run a personal best, and if I'm really close to him then you don't know what will happen. He may not expect to see some little guy from Wiltshire on his shoulder, so you don't know how he's going to react.
"For me to have a race like this where the whole world is going to watch is a great opportunity."