Jason Smyth to run for Ireland in European Team meeting at Santry
Last updated on .From the section Athletics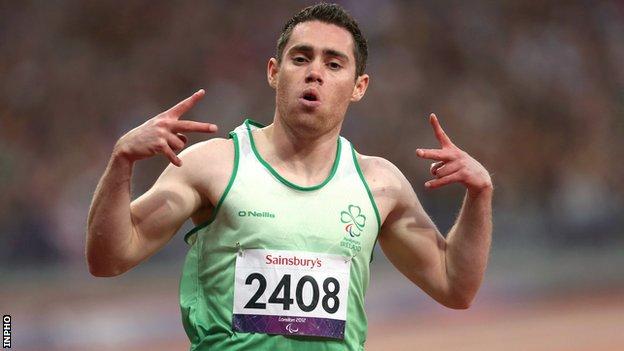 Jason Smyth is among six Ulster athletes named in the Ireland team for the European Team Championship First League meeting in Dublin.
Smyth, now back home after completing his latest US stint, will race in the 100m in the biggest athletics event to be staged in Ireland for years.
The team includes hurdlers Jason Harvey and Ben Reynolds plus sprinter Amy Foster who will double up at Santry.
Mark English will run the 800m with Dean Adams named in the 4x100m relay.
The Irish team will be without injured duo Ciaran O'Lionaird and Deirdre Ryan but championship regulars Derval O'Rourke, Fionnuala Britton and Brian Gregan will be in action while young sprint star Marcus Lawler has also been selected for the 200m.
Gregan showed his current impressive form as he set a new 400m personal best of 45.53 when winning in Huelva, Spain on Wednesday night which cut .08secs off his previous mark.
At the same meeting, Rose-Anne Galligan, who has also been selected for the European Team event, improved her 800m personal best to 2:01.07 as she clinched an impressive victory.
Galligan's performance was the second time that she had bettered the World Championship B standard over the last week after a 2:01.83 clocking in Italy last week.
The Kildare woman now looks a strong contender for a berth at the World Championships in Moscow and she will continue to chase the A standard of 2:00.00 in the coming weeks.
Derry sprinter Smyth will also hope to be on the plane to Moscow and the Paralympic star says that he has learned lessons from last year when he just missed out on qualifying for the Olympics.
Smyth chased the Olympic A standard of 10.18 in a series of races but after running 10.24 early in the season, his form dipped which left him having to re-focus on his ultimately hugely successful Paralympics in London.
"It's all about executing the race," Smyth told BBC Sport Northern Ireland.
"Last year, I got caught up in trying to run the time instead of just running my race. I'm trying to avoid that this year."
By his own admission, Smyth struggled "to put things together" in his opening couple of races this season in Florida last month but the 25-year-old showed distinct signs of an improvement last weekend when he ran a wind-assisted 10.24.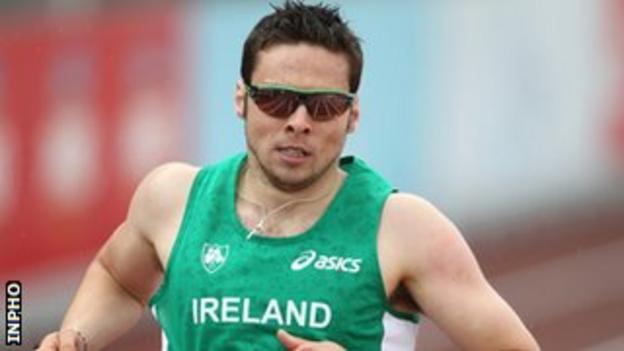 "It was better last weekend but technically there were still a lot of things that weren't right. There were issues during a couple of elements of the race.
"Last year, I didn't feel that I put everything together in any of my races and I'm hoping that I can do that this year.
"There are such small margins involved. You can't force it and you've got to let it happen because if you are consciously thinking of trying to do something in a 100m then two seconds are gone and it's too late.
"It either happens or it doesn't."
Ahead of the European Team Championship meeting at Santry, Smyth will be in action in Saturday's Northern Ireland Championships at the re-furbished Mary Peters Track.
Athletes hoping to be considered for Commonwealth Games selection have to compete in the Northern Ireland tests but Smyth is looking forward to getting back in action on home turf.
"It going to be busy enough on the racing front for the next couple of weeks but that's what it is all about.
"It will be good to race this weekend and if the conditions are good, the European Team Championships at Santry could be a really good race as there probably will be some fairly fast guys in the field."
Smyth achieved a notable scalp at the European Team Championship meeting in Budapest three years ago when he beat 2004 Olympic silver medallist Francis Obikwelu.
Ireland team for European Team Championship First League meeting, Santry 22/23 June
Men
Jason Smyth (100m), Marcus Lawlor (200m), Brian Gregan (400m), Mark English (800m), Eoin Everard (1500m), David McCarthy (3,000m), Shane Quinn (5,000m), Tomás Cotter (3000m Steeplechase), Ben Reynolds (110m Hurdles), Jason Harvey (400m Hurdles), TBC (Hammer), Brian McGovern (Pole Vault), Colin Quirke (Shot Putt and Discus), David Quilligan (Long Jump), Denis Finnegan (Triple Jump), Simon Phelan (High Jump), Matthew Martin (Javelin), David Hynes, Dean Adams, Steven Colvert, Marcus Lawlor, Craig Lynch, Zak Irwin (4x100m Relay), Brian Gregan, Jason Harvey, Dara Kervick, Richard Morrissey, Joe Dowling, Brian Murphy (4x400m Relay).
Women
Amy Foster (100m and 200m), Sinéad Denny (400m), Rose Anne Galligan (800m), Claire Tarplee (1,500m), Laura Crowe (3,000m), Fionnuala Britton (5,000m), Michelle Finn (3000m Steeplechase), Derval O'Rourke (100m Hurdles), Jessie Barr (400m Hurdles), Aoife Hickey (Hammer), Tori Pena (Pole Vault), Claire Fitzgerald (Shot Putt and Discus), Kelly Proper (Long Jump), Caoimhe King (Triple Jump), Aisling Croke (High Jump), Anita Fitzgibbons (Javelin), Phil Healy, Niamh Whelan, Ailis McSweeney, Steph Creaner, Sarah Lavin, Louise Kiernan (4x100m Relay), Jessie Barr, Jennifer Carey, Shauna Cannon, Sinéad Denny, Claire Mooney, Gráinne Moynihan (4x400m Relay).