Holly Bleasdale aims to avoid repeat of London disappointment

By Tom Fordyce
Chief sports writer
Last updated on .From the section Athletics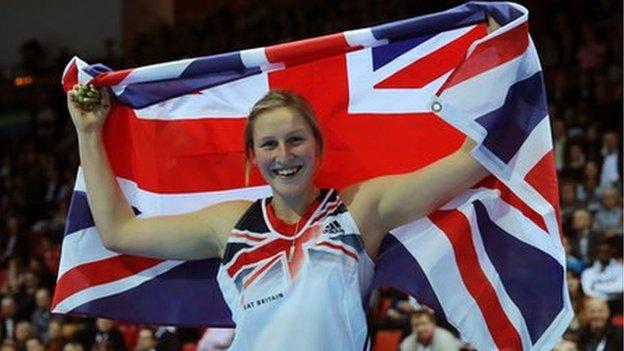 It's rare to find a striker who, having played against both Manchester United and Manchester City, can't entirely remember whether they scored against them.
Holly Bleasdale is atypical for other reasons. The one-time poacher for Euxton Girls FC ("They used to kick the ball as far as they could towards the goalkeeper and I'd sprint as hard as I could to get it") is, at the age of 21, among the most promising athletes in the world.
Those victories over both United and City in the Lancashire Girls' League notwithstanding, she also has much to live up to. So far in her pole-vaulting career, prodigious talent and stunning one-off jumps have not translated into major outdoor medals. And so, to make that biggest leap of all, she is turning her life upside down.
From Lancashire, she has moved to Cardiff, with long spells training in the United States at a base in Phoenix, Arizona mixed in. She has also split from her long-term coach to work with the legendary Dan Pfaff, who is rebuilding her entire technique.
It is not turning out to be an easy transition. "I really, really miss the UK when I'm away," says Bleasdale, wistful in the early June English sunshine.
"Being young and close to my family, it was unrealistic for me to move out to the US full time, but it's hard enough being out there for two months. It's so far away, in a country I really like but isn't at all like the UK. It's not at all green, and it's so hot you never feel like doing anything."
Bleasdale is making such sacrifices in part because of what happened before and during last summer's Olympics.
It wasn't that everything went wrong. At the start of 2012, everything went dramatically right when she cleared a remarkable 4.87m to go third on the all-time indoor lists. But with that success came problems that resurfaced again on the biggest night of her life.
"It was massive for me," she says. "No-one can take away that I did jump that height. But at the time it did make things a little bit harder.
"I was probably a 4.70m jumper - that was what I could do more consistently. But everyone was expecting me to come out and jump 4.90m every week."
If that was unfair - Bleasdale, at 21, had tried pole-vault for the first time only four years previously and by her own reckoning had jumped "tens of thousands" fewer times than her main rivals . It also meant she was considered a serious medal prospect at the Olympics.
It never happened. Despite qualifying comfortably, she cleared just 4.45m in the final and finished sixth. Good for a comparative novice, not good enough for others.
"Looking back, I'm really happy to have finished sixth aged 20," she says. "I could only have dreamt of that. The reason I was disappointed was the height - 4.45m was not a reflection of where I was. I'd jumped 4.70m a few weeks before, and that would have got me a medal.
"But the athlete I was back then, the way I'd been taught, I couldn't deal with it. The wind was bad. The way I carried the pole, the way I ran - everything was the opposite of what you needed to be successful in that environment."
Bleasdale was criticised for appearing over-reliant on her coach Julien Raffalli, who - like all pole-vault coaches - was close by in the stands, shouting advice and feedback.
"I've had a lot of people talk to me about this," she says. "But most of the girls were looking at their coaches, because when you're standing at the end of the runway you've got so many things to be thinking about it.
"You don't want to be looking at the wind reading thinking, it's bad, it's bad, it's bad… You just want to go when your coach tells you to go. Put your trust in him and go.
"When you do the 100m, you don't require any input from the stands. In the pole vault, you do. My coach is watching where I take off, where I should put the stands. You need that feedback.
"As an athlete I probably wouldn't do that. But at the time it seemed the right thing to do."
Bleasdale has admitted previously that she felt beaten before even taking her first jump. Why so little confidence after such an impressive build-up?
She grimaces. "I went into the final and knew my psychology was wrong. It was all hit and miss.
"I knew that if the wind was wrong I wouldn't make it. And if you look at the stats, every bar that was cleared had a tail wind. It was luck whether you got a good wind or not."
And so the decision to change. Out went Raffalli, the only tutor she had ever known; in came Pfaff, the moustachioed American guru who coached Greg Rutherford to Olympic long jump gold, Jonnie Peacock to Paralympic success and Donovan Bailey to the 100m world record and Olympic title in 1996.
Pfaff, who also coaches Britain's best male vaulter, Steve Lewis, as well as 2008 Olympic champion Steve Hooker, was moving back from London to Phoenix. So Bleasdale, along with fiance Paul Bradshaw, followed suit - heading back to Cardiff to work with Scott Simpson when the US became too much.
Simpson sends Pfaff training footage and detailed emails from the Welsh capital every day; Pfaff, out in the desert, replies overnight.
Too complicated for the old school? Almost certainly. But for Bleasdale the results of this peculiarly 21st-century arrangement are starting to show. At the European Indoors last March she turned down the chance to share gold with Poland's Anna Rogowska and instead beat her in a rare jump-off.
This summer poor conditions at the New York Diamond League and an Achilles niggle have limited her opportunities so far. But with the European Team Championships and Diamond League meets in Birmingham and London before August's World Championships, she believes the sacrifices are paying off.
"The Euro Indoors showed that I can go to a major champs and perform," she says. "That's the power of knowledge. The more Dan teaches me about myself, about my abilities and psychology, the more power I get, so that when I'm at a major champs I know that I'm prepared and ready.
"We're working really hard on my consistency. I think that's something I really lacked last summer, particularly outdoors. I was very up and down. The work we've done on my psychology has made me more consistent, so that I know the minimum I'm going to jump is 4.60m."
At those Worlds in Moscow, she will be up against home-town darling Yelena Isinbayeva, as well as Jenn Suhr, the American who has now joined the Russian in clearing five metres. What will represent success for the 2013 upgrade of Bleasdale?
"My target is to be up there competing against the best in the world. I think it's quite open this year - if you jump a 4.70m or 4.80m you're going to be up there in the medals.
"I want to have a string of good comps leading up so I can go there really confident and jump 4.80m. I just want to jump well. Hopefully me jumping well will result in a medal. If it doesn't - if I'm fifth - I'll still be happy."
The targets beyond that are simple: in terms of height, that five-metre barrier; in terms of silverware, a gold in Rio in three years' time.
Bleasdale has jumped far higher than any female vaulter in history at the same age. With Pfaff's guidance, she sees no reason why that trend should not continue.
"I want to do it now, but I have to be patient," she says. "Suhr is 31, and she's just set the indoor world record of 5.02m. That shows the importance of experience.
"If you compare my vault to most of the other girls, it's got quite a long way to go. I have to keep improving all year. But by changing all those things, I can't see how I could possibly not go higher.
"Working with Dan, and seeing all the possibilities of the things he's going to change, we're both confident that in the next couple of years that I could be jumping five metres. I don't want to put pressure on myself to do it, because it is a massive barrier. But I definitely think I've got it in me, and Rio is the perfect time to be doing it.
"It would be really nice to push up to 5.10m. But it's hard to know how high you can actually jump, because women haven't been able to do pole vault for very long.
"Is it possible to get up to 5.20m? That is the dream. Hopefully it will become reality. But at the moment it is still that - a dream."