Rhys Williams: Dai Greene rivalry motivates 400m hurdler
Last updated on .From the section Wales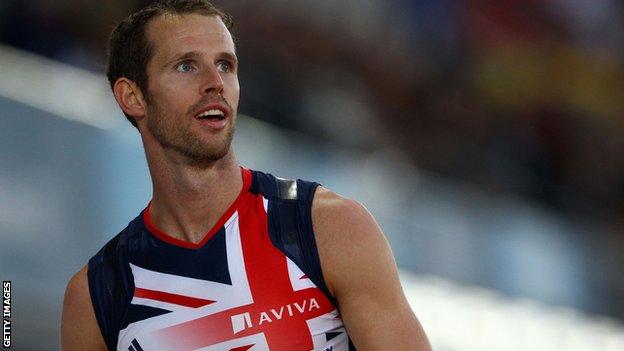 European champion Rhys Williams says his rivalry with fellow Welsh 400m hurdler Dai Greene drives him on.
Both failed to win medals at London 2012, but Williams ran a new personal best of 48.9 seconds in May.
"It [the rivalry] is a positive and drives me on. The closer I get to him, or if I'm beating him, I know I'm up there in the world standard," he said.
Williams is among a number of senior athletes, including Paula Radcliffe, who have lost their National Lottery funding since London 2012, and he now works 20 hours a week for a company in Cardiff which supplies orthopaedic products.
"For the first time in my life, I have had to work," he said, describing his current lifestyle as "difficult and different".
"I am working part-time and I have been really lucky that somebody has taken me on. That has fitted in around training and helped me take my mind off training."
Williams is determined to challenge Greene's position, and is aware he has more work to do.
"To be fair, for it to be a rivalry, I have to start beating him. It is too one-sided at the moment and I need to do my bit."
Williams, a semi-finalist at the London Olympics, has made his best start to a track season and has already run the 'A' standard to qualify for the World Championships in Moscow this summer and the Commonwealth Games in Glasgow in 2014.
But Williams, who has returned to Wales to train and changed his coach, missed out on selection for the Great Britain team for the European Athletics Team Championships in Gateshead in June because of Greene.
"Of course [I am disappointed]. You always want to run for Britain, but they can only choose one and unfortunately there is another Welsh guy called David Greene who is world champion, so it is just my luck isn't it?" said Williams.
Greene, who had a double hernia operation in March, says he is ready to defend his world title and ran 48.81 on his return to the track, but still finished fifth at the Diamond League meeting in Rome.
Williams dismisses the suggestion that seeing Greene return to the track after an operation and record a faster time than Williams' personal best is frustrating.
"It is not demoralising," he said. "It's sport isn't it? It's only a tenth. You try and stop your stopwatch in that time? It's nothing, a blink of an eye.
"If he is the best, it's what you have to aim at isn't it? Otherwise, I may as well give up now. It is what it is."