Former GB Olympian Donna Hartley-Wass dies aged 58
Last updated on .From the section Athletics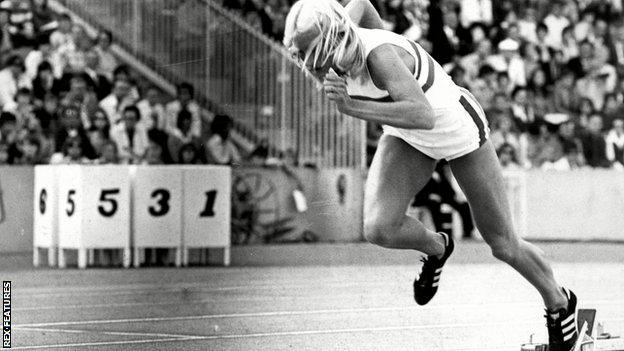 British Olympic bronze medallist Donna Hartley-Wass has died suddenly at the age of 58.
As an athlete, under her married name Hartley, she won bronze at the 1980 Olympic Games in Moscow in the 4x400m.
She was also a double commonwealth champion in 1978, when she won the individual 400m and 4x400m relay in Edmonton, Canada.
The Southampton athlete, who was coached by Mike Smith, was made an MBE by the Queen in 1979.
Hartley-Wass died unexpectedly while sunbathing in the back garden of her home in Yorkshire on Saturday and was found by her husband.
She was married to actor and comedian Bobby Knutt for 26 years, after a previous marriage to fellow athlete Bill Hartley.
Throughout her athletics career she was coached by Smith, who went on to guide the careers of 400m stars Roger Black and Iwan Thomas.
And Smith paid tribute to Hartley-Wass, calling her the best of his stellar crop of athletes.
"Donna was one of the best athletes I've ever had to deal with, not only as an athlete but as a person," he told BBC South Today.
"I first met her when she was 15. She wanted to do well and was determined to do well and she was prepared to work for it. Not only did she have talent, but she worked hard.
"It didn't take me long to work out she had talent and that she wanted to develop.
"Sometimes in athletics it is felt you have to have the facilities, but you don't. You have to have the ability,"
Smith added: "Donna didn't let anything faze her, she took everything in her stride. Everything she got, she earned. She deserved it.
"The Olympic medal was the height of it. She liked to dream and she fulfilled that dream."
She originally also ran under her maiden name Donna Murray and following her track career, became a body builder and was crowned Miss Great Britain.
A post-mortem to establish the cause of death is expected to take place early next week.