Jason Smyth clocks a wind-assisted 10.24 for 100m in Florida
Last updated on .From the section Athletics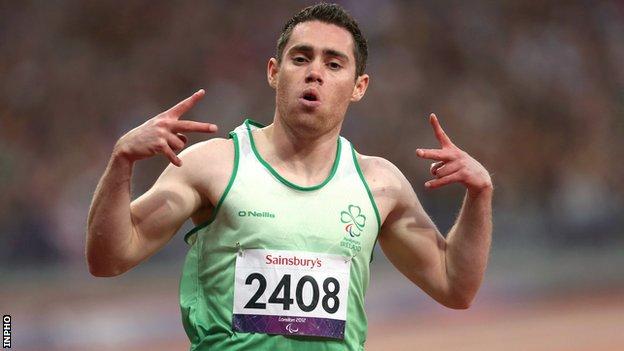 Jason Smyth produced his most encouraging run of the season to date as he clocked a wind-assisted 10.24 for 100m in Florida on Saturday.
At his final meeting of his latest US stint before travelling home on Sunday, Derry athlete Smyth had earlier clocked an also windy 10.30 in the heats.
"Moving in the right direction with improvements still to be made," Smyth said on Twitter after Saturday's races.
The heat wind reading was 2.1 metres per second and 2.6 in the B final.
With the readings marginally over the legal limit of 2.0, Smyth will take encouragement from his runs at Montverde on Saturday.
Particularly so, that he appeared to come through the meeting unscathed after being bothered by a back twinge at the same venue last weekend while posting strongly wind-assisted slower times of 10.31 and 10.45.
His opening race on Saturday saw him take third place behind Gabriel Mvumvure (10.16) and Bahamian 2007 world 100m silver medallist Derrick Atkins (10.21).
Mvumvure and Atkins later clocked legal times of 9.98 and 10.06 as they finished first and third in the A final with Smyth placing fifth in the B final won by Jamaica's Ramone McKenzie in 10.02 ahead of compatriot and 2010 Commonwealth Games champion Lerone Clarke (10.13).
Bahamians Adrian Griffith (10.16) and Jamial Rolle also finished ahead of Smyth but it was an improved performance by the Paralympic champion.
Smyth will arrive back in Ireland on Monday and his first competitive outing after his return will be next Saturday's Northern Ireland Championships at the re-furbished Mary Peters Track.