Jenny Meadows: Dame Kelly Holmes the motivation to return
Last updated on .From the section Athletics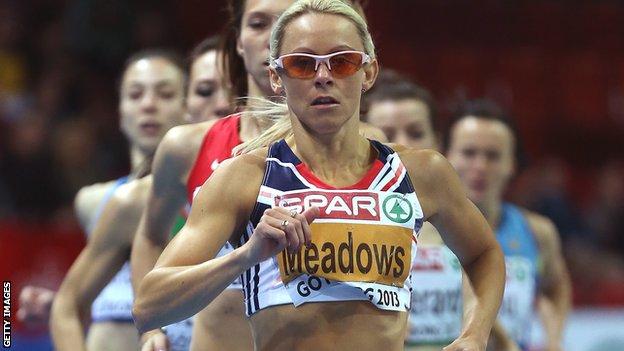 Jenny Meadows will use double Olympic champion Dame Kelly Holmes as her inspiration after being told she will not race again this season.
Holmes overcame years of injury setbacks to win two golds in 2004.
"I'm very much using Kelly as that motivator, and the knowledge that I did get myself in really good shape," Meadows told BBC Radio Manchester.
The Wigan athlete has been diagnosed with a stress fracture of her thigh bone, ending any hopes of her competing in Moscow and replicating her success of 2009, when she claimed world 800m bronze in Berlin.
Holmes was 34 when she won the Olympic 800m and 1,500m titles in 2004.
"She always said she missed a few seasons through injury, so she didn't necessarily have 34 years of running in her legs," continued Meadows, who still harbours ambitions of competing at the next Olympics in Rio.
"I believe 2014 can be a great year for me. There's a Commonwealth Games and a European Championships, and they're two brilliant opportunities for me to finish top of the podium.
"Then I'll reassess, hopefully go on to the next World Championships and Rio in 2016 if my body can still take it."
And the disappointment of suffering another long-term injury has been tempered by the form she was showing in training during the past few weeks, convincing her that she can still compete in major events once she returns to fitness.
"If I hadn't have managed to come back from the [Achilles] injury and got myself into the shape of my life, I probably would have handled this quite differently," she added. "I would have started asking myself questions about whether my running days were over, but I've got evidence I was in that shape and it's definitely made my decision to keep on going with this sport.
"There are a lot of championships to go at next year and they will be the motivation to get me through that long rehab that I now face."