Usain Bolt: Justin Gatlin calm ahead of Rome showdown
Last updated on .From the section Athletics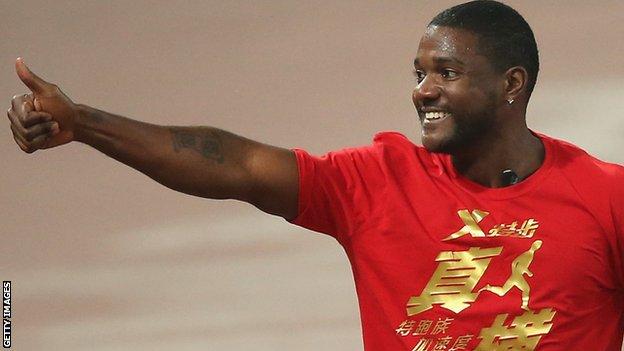 Olympic bronze medallist Justin Gatlin says he is calmer this year, after London 2012 made him "highly strung".
The American faces six-time Olympic champion Usain Bolt over 100m at Rome's Diamond League at 2033 BST on Thursday.
Gatlin, 31, has already won at two meetings in the series this season, in Doha and Eugene, and is now targeting a victory over Jamaican Bolt, 26.
"I train to be number one, that's what I'm shooting for," the 2004 Olympic champion told BBC Radio 5 live.
"Bolt is a great runner and even though it seems like we go back and forward in the media, I respect him as a runner definitely.
"He is the most exciting runner I've ever seen in my life. I think that being able to compete against him is an honour."
Gatlin ran 9.88 seconds in Eugene last week while world record holder Bolt has only competed over 100m once this season, failing to clock under 10 seconds.
Bolt is confident he will run faster in Rome but Gatlin has questioned the Jamaican's motivation.
He said: "It's harder for a champion to come back to duplicate what you've already done over and over again because you lose a little bit of inspiration every time.
"I think that's the real Achilles heel of being a champion - to keep going."
Gatlin, who served a four-year ban after testing positive for excessive testosterone in 2006, won bronze in London last year but believes he can make an even bigger impact this season.
"I have a different feel going into the season than I did last year," he said.
"It was a little more highly strung last year because it was the Olympic Games and I wanted to make sure it was the best season I ever had.
"I want to go into this season with that same attitude but more calm, more collected. I want to be able to know who my opponents are and what they do and what they bring to the table."
Gatlin has already beaten American team-mates Mike Rodgers and Ryan Bailey this year, as well as Jamaican Nesta Carter, but is yet to face Bolt, and the world champion and Olympic silver medallist Yohan Blake.
With preparations continuing for the World Championships in Moscow in August, interest is growing in the form of the world's top sprinters - but Gatlin is focusing on his own performances.
"You don't obsess over what your competitors are doing or how they're training because training is totally different from how they compete on the track," he said.
"But you do want to make sure that you are going to be able to stay up with them and stay competitive or overcome them and beat them so you always look for different ways - it's a strategy like war."
Rome Diamond League schedule highlights (BST):
1815: Women's long jump - featuring all three London 2012 medallists, USA's Brittney Reese and Janay DeLoach Soukup and Russia's Yelena Sokolova.
1903: Men's 400m hurdles - featuring Great Britain's Dai Greene and London 2012 bronze medallist Javier Culson.
2010: Women's 200m - featuring London 2012 gold medallist Allyson Felix.
2020: Men's 800m - featuring Ethiopia's teenage indoor world champion Mohammad Aman.
2033: Men's 100m - featuring Olympic champion and world record holder Usain Bolt and London 2012 bronze medallist Justin Gaitlin.