Mo Farah's first defeat since 2011 in Oregon is probably just a blip

By Mike Costello
BBC Radio 5 live
Last updated on .From the section Athletics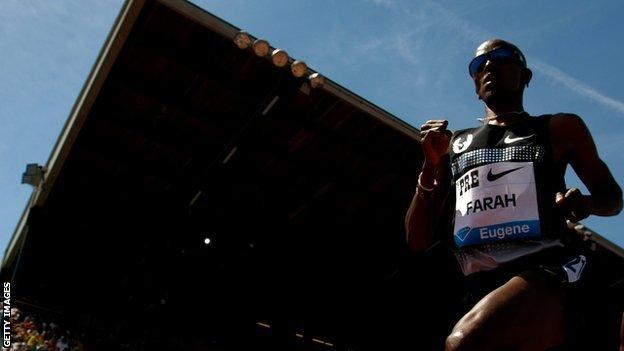 Mo Farah suffered his first outdoor defeat since 2011 on his first Diamond League outing, but there are actually plenty of positives to take out of finishing second to Edwin Soi in Oregon.
For a start you could sense the stomach virus Mo's been battling in recent weeks had taken its toll on him. Certainly the vibe during the week was that Mo was ready to withdraw from the event completely.
In the end he changed from the 10,000m to the 5,000m on the Friday to give himself an extra day's recovery time.
His American coach Alberto Salazar had even suggested he run the mile on Friday as a fast tempo training exercise instead, but in the end Farah opted for the 5,000m.
To his credit he clearly felt his duty to the meeting organisers and it was certainly his most competitive race over that distance since London 2012.
Despite the virus he was in contention for most of the race and led at the bell, as he did in the Olympic final, but this time he could not hold off the opposition and he was outsprinted only by Soi.
The Kenyan has a pretty decent pedigree himself so there is no disgrace and in fact Farah's finishing time was 10 seconds quicker than his previous best for 5,000m this season.
Also it must be encouraging that there were a lot of top-class athletes in the field behind him so I think there are positives to take from the race.
He tweeted a couple of hours afterwards "I'll be back for sure" and I think that was a reminder to everyone of the quality of opposition in the race.
But it also goes to show how many top-class athletes out there are ready to capitalise if Mo Farah is not quite 100%.
One of those in that category, who Mo will no doubt be keeping an eye on, was not actually in the race and that is Ethiopian Hagos Gebrhiwet.
He has just turned 19 and broke the world junior record holder over 5,000m in July last year, and his best ever time at the distance is quicker than Mo's fastest.
Gebrhiwet made an impressive start to the season and a lot of people are looking forward to his duels against Mo in the future.
The first of those is scheduled for the Diamond League meeting in Birmingham in four weeks' time so there will be a chance to see how Mo copes with him on home soil.
Of course there are no guarantees of whether Gebrhiwet will make it big. We have seen other athletes come through from East Africa in the past like this, at this type of pace, and then not progress.
One of the things they sometimes struggle with is getting it right in races without pacemakers, who tend to take away a lot of the thinking time.
Because pacemakers do set the pace, the athletes behind them are almost towed around without having to do the thinking as to where they should place themselves in the field.
That is where Mo has the advantage with the experience he has of what his body is capable of.
In the 5,000m 2012 Olympic final for example Gebrhiwet surged from 11th place to second on the penultimate lap but capsized over the final 400m because he just did not have enough left in the tank.
They are getting excited about him in Ethiopia and that is enough of a reference. But expect Mo to come back strongly.