Lee McConnell: IOC ruling on Athens medals 'disgusting'
Last updated on .From the section Athletics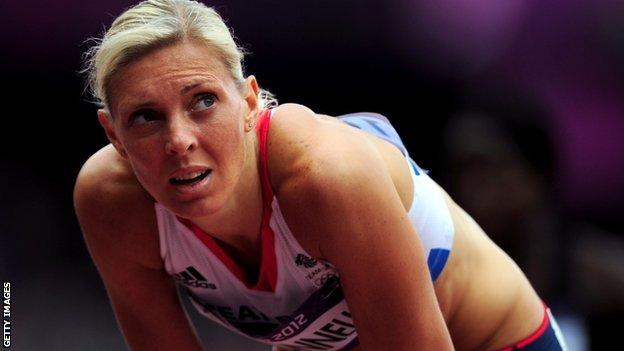 British 400m runner Lee McConnell has condemned a decision to let the US 4x400m women's relay team keep their gold medals from the 2004 Athens Olympics despite one of their runners admitting using banned drugs.
McConnell tweeted that the decision to let the result stand was "disgusting".
Britain came fourth in Athens and had been expected to be upgraded to bronze.
The decision was announced by the International Olympic Committee (IOC) during its executive board meeting in St Petersburg, Russia, having been postponed from an earlier meeting in Switzerland in December.
"It is a step back in the fight against drug cheats in sport," added McConnell, who was fourth in the final alongside team-mates Donna Fraser, Catherine Murphy and Christine Ohuruogu.
The IOC stripped Cox of her medal last year but delayed a decision on the rest of the US team pending advice from the International Association of Athletics Federations (IAAF).
The IOC said on Friday that it "considers the matter closed", adding: "Crystal Cox had her medal withdrawn but the rest of the team will retain their medals.
"The IAAF is responsible for interpreting their rules and amending results of their competition where appropriate - in this case the time limit has now expired, and the results and medal allocations stay as they are."
Domestic governing body UK Athletics said it had not received any "official" confirmation of the decision.
"If it is correct then it is very disappointing for the athletes concerned and we will take time to review the decision, including consulting with the British Olympic Association, before deciding what further action we might take," said a spokesman.