Paula Radcliffe's marathon world record - a decade on

By Tom Fordyce
Chief sports writer, BBC Sport
Last updated on .From the section Athletics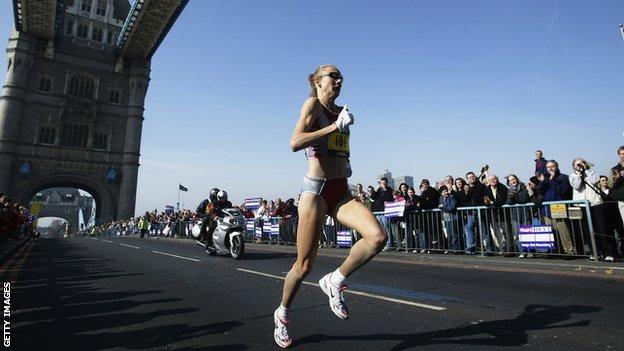 There are certain world records that, when the eyes register the numbers on the clock or screen, trigger an inadvertent, disbelieving double-take.
The brain can't make sense of what it sees. Usain has run 9.5-something? Edwards has leapt to 18.29m?
So it was, 10 years ago this weekend, when Paula Radcliffe staggered under the finishing banner on the Mall, the clock above her head showing 2:15.25.
Two hours 15 minutes for the marathon? It was more than three minutes faster than any other woman had ever run, almost two minutes quicker than the world record Radcliffe herself had set in Chicago the previous autumn - a mark considered impossible at the time, and a decade further on, still to be even approached by anyone else.
On that spring morning on the start line in Greenwich, not even Radcliffe herself had dared dream of such a return.
"The only target I had in my mind was that I wanted to run faster than I had in Chicago," she says. "I was conscious that training had been going really well, and that I was in great shape, and that conditions were good.
"I had learned about the importance of negative splits - that it was much easier getting to halfway comfortable and then pushing on. From the training I had learned how hard I could push my body.
"I wanted to see how fast I could go. But I had no idea what splits I was on because I hadn't worked any out. That was deliberate. Why put limits on it? What do you do if you're running faster than you planned?"
For those watching, including most commentators, the answer was worry. No woman had ever got to halfway in an average of five minutes 13 seconds per mile and maintained it. At 18 miles, passing the entrance to the Blackwall Tunnel, Radcliffe too began to fear - beset by stomach cramps, struggling to focus.
"I knew I had to be careful. As I came past the Tower of London, I was thinking, 'This is just a half-hour run now, I can do this'.
"I knew I was up on my Chicago time but didn't know it could be 2.15 or 2.16 until I came along the Embankment and saw the BBC camera-bike. Peter Elliot was on board and told me I was on course for the record. I was already going as hard as I could - it wasn't like I could pick it up - but equally I knew I wouldn't let it slip."
Roared on by her home crowd, blocking out the pain by counting to 100 again and again, Radcliffe maintained her unrelenting pace, running the 24th mile in 5.03 and the 25th in 5.08.
She would cover the last 800m in 2.25. Should you never have run a marathon, or be struggling to comprehend the magnitude of the overall performance, try running two laps of your local track in that time.
Few will manage it; most of those who do will feel sick. Now imagine running almost 26 miles before that.
In the immediate aftermath, Radcliffe saw no reason why she could not go faster still.
"Haile Gebrselassie told me that if I went to Berlin, I could run 2.13. Berlin on paper was a faster course. But it was different for me: London was a big advantage, because it was my home crowd.
"I did think I could go faster if things kept progressing and I got a decent training load in. I was in better shape in early 2004 but then I got hurt. There wasn't a race when I could cash in."
Injured in the build-up to the 2004 Athens Olympics and forced to drop out before the end of the marathon, Radcliffe would never touch such heights again.
She took gold at the 2005 World Championships but her best time in the following years would be the 2:17.42 she ran in London that year.
As the years slipped by, that majestic mark of 2003 would sometimes become as much a cross to bear as a badge of pride.
"I remember going back to my training base in Albuquerque in 2005, 2007 and 2008, trying to get close to the 10-mile tempo run I was doing in 2003. I couldn't get near it," she explained.
"At the time you think you're going to keep on improving. Until then, every time I'd gone there I'd taken the time down further. Then you suddenly think, 'I'm not going to be able to get back to that'.
"I used to get really frustrated, and stressed, trying to push myself to it. As I went back in subsequent years, I'd have to make myself do a different route, because you get to the point where you know you are going to damage yourself physically or mentally trying to do it."
Others would be more forgiving. Radcliffe's performance is still considered by both statisticians and supporters as the single greatest display in the history of women's athletics; the nearest any other woman has come to her time is the 2:18:20 by Russia's Liliya Shobukhova in Chicago two years ago.
Radcliffe is both sanguine about its durability and honest about how long she hopes it will stand.
"My record hasn't even stood as long as the 13 years that Ingrid Kristiansen's did. It's not even the longest standing women's marathon record.
"You do want to see your sport move on, but to say I want it to be broken would be wrong, because I'd be lying. If you say that you're just saying what you think people want you to say.
"It could be at any time. It just takes someone to get in really good shape, and get the right conditions on the day. It only takes a couple of seconds faster per mile and it's gone."
Would she swap the record for the Olympic medal she obsessed over from her debut Games in Atlanta 17 years ago all the way through to her late withdrawal from London last summer?
"I would love to have both and not have to worry. I'm starting to be really grateful that I had as long a career as I did, and that I was able to train hard enough to get those achievements. A couple of years ago I might have been happy to swap it for an Olympic medal. It is what it is now."
And what of the notion that her mark stands proud, in the discredited and often deeply questionable list of women's athletics world records, as a beacon of drug-free achievement?
"The biggest thing for me is that I know it. There will always be people who don't believe you, but hopefully the majority do. I've campaigned for more and better testing, so that more people can believe.
"I have total pride in it and know it was all about how hard I worked."