Russian duo Svetlana Krivelyova and Olga Kuzenkova banned
Last updated on .From the section Athletics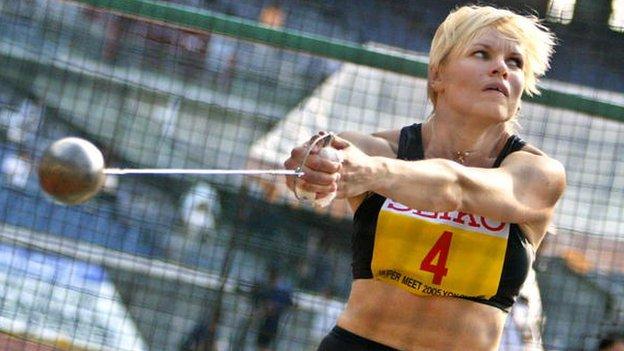 Ex-Olympic champions Olga Kuzenkova and Svetlana Krivelyova have received two-year bans for failing drugs tests.
Shot putter Krivelyova and hammer thrower Kuzenkova - both now retired - were caught after old samples were re-examined by the Russian athletics federation (VFLA).
The samples date from the 2004 Olympics and 2005 World Championships, where they won bronze and gold respectively.
The retesting has taken place to capitalise on the latest technology.
However, an eight-year statute of limitations on anti-doping is in operation, which means Olympic gold medals won by the pair still stand.
News of the bans comes after Great Britain head coach Peter Eriksson's call last month for "greater investigation" into why so many Russian athletes are failing drugs tests.
His comments have been echoed by British long jumper Jade Johnson, who recently claimed Russia should not hold this year's World Championships following more doping scandals involving its athletes.
Johnson's rival Tatyana Kotova, who won silver in 2005 and 2003, when the GB athlete came fourth, was one of five medal-winning athletes including Kuzenkova caught doping.
"We have the championships in Moscow and I don't feel they deserve to have it," Johnson told BBC Radio 5 live. "Countries need to take responsibility for what's going on with athletes."
The ban for Krivelyova, who won the women's shot put gold at the 1992 Barcelona Olympics and the 2003 World Championships in Paris, comes in addition to her being ordered to hand back her medal from Athens 2004 in December.
She finished fourth in Athens but was promoted to third after her Russian team mate Irina Korzhanenko was stripped of gold after failing a drugs test for the anabolic steroid stanozolol.
"Krivelyova has been banned for two years starting from 2 April 2013. All her results from 18 August 2004 to 17 August 2006 will be annulled," the VFLA said.
Kuzenkova, the 2004 Olympic women's hammer champion, tested positive at the 2005 World Championships, where she also finished first.
"Kuzenkova has been banned for two years starting from 27 March 2013," the VFLA said.
Her results have been annulled from 12 August 2005 to 11 August 2007, meaning she will lose her 2005 world title.
The gold medal will now go to Cuba's Yipsi Moreno, who finished second in Helsinki.
Yelena Churakova, 26, who competed for Russia at the London Olympics, reaching the semi-finals in the women's 400m hurdles, also received a two-year ban after testing positive for the anabolic steroid testosterone at a training camp in Portugal in January.