Leading lawyer demands action over doping problem in India
Last updated on .From the section Athletics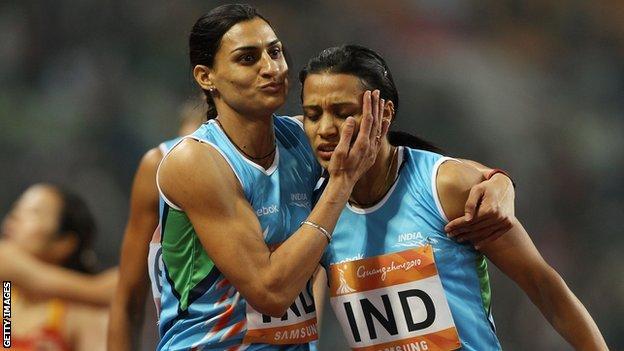 More action should be taken to stop widespread doping in Indian athletics, insists a leading Indian sports lawyer.
(52) on the International Association of Athletics Federations's banned list.
Russia has 33 athletes on the list, while there are 10 from the United States and four from Great Britain.
"There should be a national debate - but it's not happening," sports lawyer Lovely Dasgupta told the BBC.
"We're not Canada, where Ben Johnson is caught and you have that commission set up and from where the whole debate about Wada (World Anti-Doping Agency) started.
"We are not having any kind of a debate."
Last year's National Schools Championship saw 11 junior athletes caught doping, and Dasgupta also feels that coaches put pressure on athletes, who often take banned substances unknowingly.
"They don't know what they are eating or what they are consuming," she said.
"They just know that the coaches have given them (something) and if they don't listen to their coaches then somebody else will take their place in the team.
"And if they don't get a place in that team, then they lose out on that job that is very clearly available to them if they at least get that kind of exposure at state level and the national level.
"That is the incentive. The incentive has nothing to do with trying to dominate the sporting world."
India did enjoy some success at the 2010 Commonwealth Games it hosted in Delhi.
The 4x400m Indian women's relay team won gold but three of the team - Sini Jose, Ashwini Chidananda Akkunji, and Mandeep Kaur were all subsequently banned in 2011 after they were found to have taken banned substances.