IAAF sets up temporary blood-testing facility in Kenya
Last updated on .From the section Athletics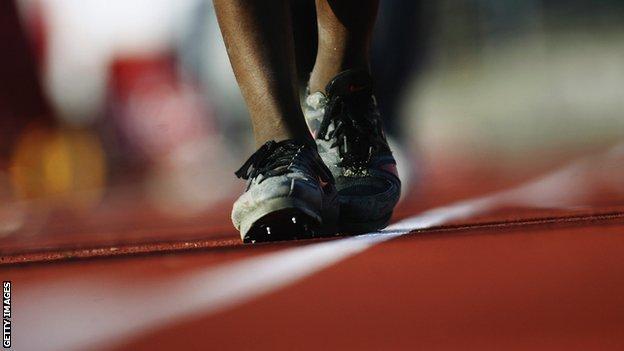 Kenyan athletes will be tested by a new blood-testing programme after concerns about doping, according to the IAAF.
Blood-testing has not been possible in east Africa because of the remoteness of training bases.
As a result, it has been difficult to transport and test samples to an accredited laboratory within the required 36-hour time frame.
However, the sport's governing body is now setting up a temporary testing facility in the country.
It follows a visit last month where anti-doping officials were sent to Kenya on an unannounced visit to investigate claims of widespread doping.
The body succeeded in testing samples from more than 40 leading Kenyan athletes within the permitted 36-hour time frame after transporting samples to Switzerland for analysis. The temporary on-site Kenyan facility will reduce the amount of time it takes before the samples are tested.
Thomas Capdevielle, the IAAF's doping results manager, told an anti-doping summit in London they were confident that setting up the testing lab would help them achieve effective testing in Kenya.
Blood testing is recognised as the preferred way of catching athletes using EPO and growth hormones.
Last September, Kenya's athletics authorities revealed they were investigating allegations of widespread doping.
And in February, Moses Kiptanui, one of most successful runners in Kenyan history, claimed doping was rife among athletes there.
Meanwhile, the IAAF says it is investigating a further 17 suspicious samples collected by the sport's biological passport program since 2011.
Analysis of the samples produced 38 adverse findings, 19 of which have already led to sanctions.
The biological passport system monitors an athlete's blood profile over time to check for variations that indicate doping.
Cycling also uses the system, while tennis announced last week that they would be using it, too.
Last week the IAAF announced re-testing of stored samples from the 2005 World Championships had led to six athletes, including five medallists, being sanctioned.