Doping: Five 2005 world medallists caught after IAAF retests
Last updated on .From the section Athletics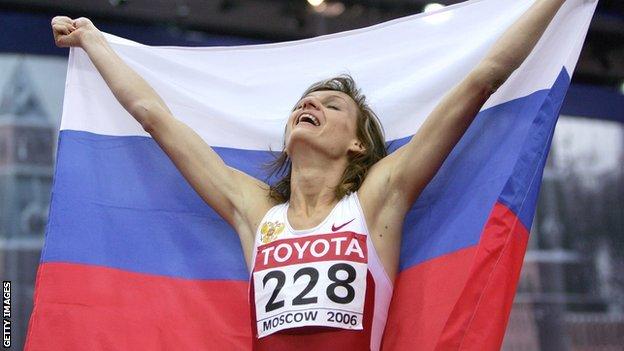 Five medal-winning athletes have been caught doping after samples from the 2005 World Championships were retested.
Belarusian shot putter Nadzeya Ostapchuk, who won gold in Helsinki and was stripped of her London Olympic gold medal for doping, was one of the five.
The other two champions from 2005 were the hammer throwers Ivan Tsikhan of Belarus and Olga Kuzenkova of Russia.
Long-jumper Tatyana Kotova, who won silver in 2005 and 2003, when GB's Jade Johnson was fourth, is another caught.
Russia's Kotova also won gold at the 2002 European Championships, when Johnson finished second.
Belarus's Vadim Devyatovskiy, who claimed silver in the men's hammer, and countryman Andrei Mikhnevich, who did not win a medal in Helsinki but was world champion in 2003, were also caught.
It is understood the substances involved in the doping cases will all merit sanctions in the serious doping category, which includes steroids.
That would normally be a two-year automatic ban for first offenders, but others with previous doping history could face longer bans.
Governing body the IAAF retested samples taken in Helsinki last year.
And Nick Davies, deputy general secretary of the governing body, said the retesting had been carried out eight years after the event to capitalise on the latest technology and equipment.
"We have an eight-year statute of limitations on anti-doping, so seven years past the event is really when you want to test, using the most up-to-date equipment," Davies told BBC Sport.
"The message we're trying to give out is: 'Don't even think about it, because even six or seven years down the road, something you think you got away with you won't.'"
Davies added that about 100 samples were tested, from a range of events and nationalities.
However, he explained that Russians were more likely to be tested than most nationalities because there were more of them in the IAAF testing pool.
"Russia are the second-most successful nation behind the United States and as a result we're testing more Russian athletes more often," said Davies.
"I think in 2012, there were seven times as many Russians in the testing pool as Brits. So it's more logical that more Russians are being caught."
IAAF president Lamine Diack says the findings confirm the sport's commitment to rooting out those suspected of foul play.
Diack said: "The IAAF's message to cheaters is increasingly clear: that, with constant advancements being made in doping detection, there is no place to hide.
"This retesting is just the latest example of the IAAF's firm resolve to expose cheating in our sport.
"The IAAF will continue to do everything in its power to ensure the credibility of competition, and where the rules have been broken, will systematically uncover the cheats."
Ostapchuk is currently awaiting the length of her ban from IAAF competition following her failed test at London 2012.
Devyatovskiy and Tsikhan were stripped of their silver and bronze medals from the 2008 Olympics for doping but had them returned after an appeal to the Court of Arbitration for Sport.