Paula Radcliffe praises Marathon doping penalties
Last updated on .From the section Athletics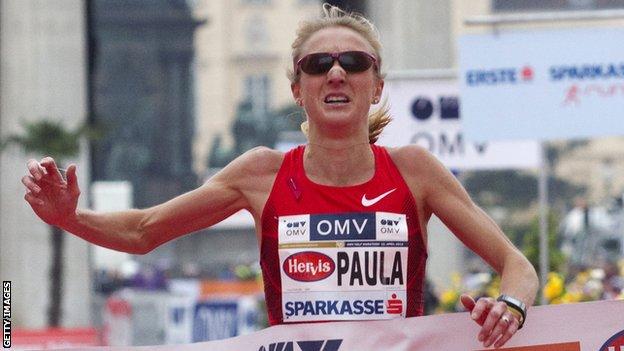 World record holder Paula Radcliffe has praised the decision of London Marathon organisers to impose stricter anti-doping penalties on athletes.
World Marathon Majors (WMM), which also organises races in Tokyo, Boston, Berlin, Chicago and New York, can now suspend or claim back payments from athletes found guilty of doping.
"I would love to see all major events follow its lead," said Radcliffe.
"The cheats need to understand that they are not welcome in our sport."
Radcliffe, 39, has won seven marathons during her career and set the world record with a time of 2:15:25 in London in 2003, but UK Athletics withdrew her funding in October.
However, she told BBC Sport in December that she wants to continue her career and is delighted that doping cheats will now be made to repay prize money, appearances fees and performance bonuses.
"This is a step forward in increasing the deterrent and showing athletes and managers that cheating won't be tolerated," she said.
"Having to pay back all money won while cheating is common sense and a logical element that has been missing for a long time. It is clear that any monies won while cheating are tantamount to fraud and should be returned."
Radcliffe has highlighted the issue of drugs in sport throughout her career and wears a red ribbon when competing to campaign for better testing in athletics.