Adam Gemili's talents are limitless says Darren Campbell

By Darren Campbell
Olympic silver medallist & BBC Radio 5 live pundit
Last updated on .From the section Athletics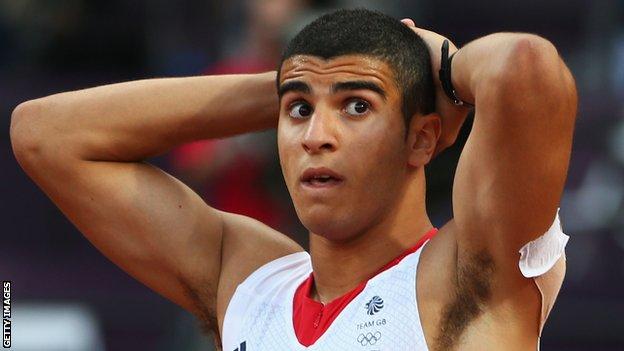 Britain's Adam Gemili is still only 19 and has been on an extraordinary journey over the last 12 months.
At the start of January 2012 he wasn't even a full-time athlete but he finished the year as World Junior champion and only just missed out on making the Olympic 100m final.
I wouldn't put any limits on what he can achieve.
Obviously he has got to beat Usain Bolt, but Usain won't be around forever and Adam has definitely got the right mentality and temperament.
I have been to see Adam and interviewed him as part of a special programme called "Gemili and the Next Generation" which is broadcast from 21:00GMT on BBC Radio 5 live this Wednesday.
We will be focusing on the British athletes who could follow the success of Mo Farah, Jessica Ennis and Greg Rutherford at London 2012.
Adam told me that his semi-final in London was when he learnt most about himself.
He said: "I looked at the starting list and saw Tyson Gay and Yohan Blake and only the first two qualify for the final.
"I didn't believe in myself and I should have given myself more credit for being there. I had a really bad start and I was last out of the blocks but I still came through in third.
"That's when I realised if I'd had a bit more confidence I could have made the final."
If you want to be successful in sport you can't continue to make the same mistake and Adam quickly analysed the mistakes he made.
It was brilliant to spend some time with Adam to understand his character. In the past I've thought of him as shy, but once you get to know him you realise that underneath that shyness is a lot of belief.
There are some similarities between us. Early in my career I took time away from athletics to play football, while Adam was part of Chelsea's academy at a young age before going on to play for Dagenham & Redbridge.
Now he's starting to fall in love with athletics. His passion will always be football. I love football, but I had to find a love for athletics if I was going to extract the best out of myself.
I think Adam understands that he's got to study the sport and when we met he spoke about loving life on the track.
He said: "A year ago I was playing football on a Saturday morning in the freezing cold, wearing boots and shin pads, and then I find myself lining up at the Olympics against the world's quickest men.
"I was sitting at the back of the bus on the way to the stadium and Bolt and Blake were at the front joking around and laughing. I was just sat there shaking!"
Adam gained a lot from his experience at the World Junior Championships when he was favourite for gold.
That was when he learnt that many races are won and lost in the minutes before - when the sprinters are in the call room.
He added: "That was the first time I'd been in a really tense call room.
"One boy started beating on his chest and screaming. I was laughing but you could see some people lost their bottle with it."
During my career I had to share a call room with Maurice Greene. I know I can be too aggressive so I had to learn to be able to stay calm.
I learnt to meditate, I read lots of psychology books and then in the call room I'd put my feet up and I sometimes sung love songs to myself.
At the moment, Adam is trying to balance athletics with starting a university degree.
This is going to be an interesting and maybe a tough year for him but it will be good to see how he gets through it.
I see he plans everything he does and that's really good. Lots of other athletes don't plan.
The next couple of years will be about whether his body can handle the rigours of his training regime to become one of the best sprinters in the world.
The important thing with young athletes is not to speed up their development. You can't make a young person's body grow any quicker than it wants to grow. You can't accelerate their level of progression.
As a sportsman, Adam could probably achieve anything he wanted to. Now he has chosen athletics, I see a very, very bright future for him.
Hear Darren Campbell's interview with Adam Gemili in "Gemili and the Next Generation" on BBC Radio 5 Live, Wednesday at 21:00GMT.