Great North Run: Nick McCormick returns to his roots
Last updated on .From the section Athletics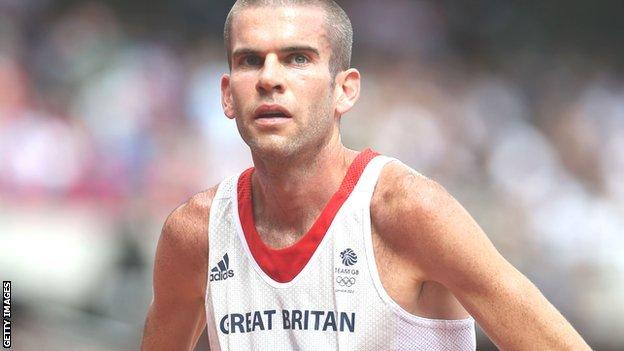 Olympian Nick McCormick will be as excited as anyone when he returns to his roots on Sunday to compete in this year's Great North Run.
Although the Hexham-born 5000m runner has just represented his country at London 2012, McCormick's enthusiasm at stepping up to take part in an event which is seen as part of the cultural fabric of the North East is clear.
"It's unreal, I can't wait," he told BBC Sport. "The route goes past Gateshead Stadium, somewhere I have driven to train a lot over the years, and it will be amazing running across the Tyne Bridge.
"Growing up and running around Hexham, Gateshead and Jarrow, kids would chase after you and the first thing they would ask is 'can you run the Great North Run?'.
The event on Sunday is the largest half-marathon in the world and will see some 55,000 competitors pounding the streets.
But although now a race which attracts the best runners in the world and will be screened live on the BBC, McCormick says it has lost none of its local appeal.
"Kids were never really interested in the Olympics, in the North East the Great North is the Olympics," McCormick added.
"It's great that so many people from the North East are interested in the event. I have had a lot of people coming up to me once they have learned it will be my first Great North Run and telling me about the course and passing on their advice.
"I have heard how spectators hand out jelly babies and oranges on some parts of the course. I don't think I will be having any of those, but it shows that for those who know about the event it's a bit like a family."
The 31-year-old Morpeth Harrier will join such distinguished names as Mike McLeod, Brendan Foster and Steve Cram as local athletes who have taken part.
And it will be even more significant as McCormick is entering a half-marathon for the first time with a view to stepping up to the full distance for the Rio Olympics in 2016.
"It's something I need to have a go at now and see if I am any good, rather than waiting until I am 35-36 and thinking 'what if'," he said.
"I am just testing the water, I don't expect miracles overnight, I have just got to do it first, and see how I get on. It might go better, or even worse, than expected but it's about the experience this time."
McCormick has been widely known for his exploits on the track, in particular the 1500m, where he has competed at Commonwealth, European and World Championships level.
Yet having not contested a major outdoor championship since 2006, the Loughborough-based athlete knew things had to change.
In 2012 McCormick moved up in distance to the 5,000m, a decision which paid dividends as he qualified to compete for Team GB at this year's Olympics.
He narrowly missed out on a place in the final but was pleased with his efforts in a strong field.
And, following a return to international form over the longer distances, McCormick feels that the time is right to assess his potential on the roads.
"At the moment it would be a bit blasé to say that I am going to be a marathon runner because I haven't even raced half the distance yet, but it is something that I am willing to try," said McCormick.
"From what my coach [Lindsay Dunn] says, and also the physiology type testing we've carried out, I could run a really good marathon. Only time will tell, but I would definitely like to do one, maybe even in Rio."
For an athlete who regularly runs more than 100 miles a week, the 13.1-mile race distance will hardly be a venture into the unknown.
McCormick added: "I have run track and cross country for years but never really challenged myself in a major road race.
"The hard part will be trying to find a rhythm, especially in those first three to four miles. I have just got to relax and realise this is the first time I have done it, but at the same time try and be competitive.
"The time will take care of itself, it's important to concentrate on just racing, but I do feel that I am capable of finishing in the top five for sure."
The Bupa Great North Run takes place on Sunday, 16 September and will be live on BBC One.