Discus thrower Morse sorry for Ostapchuk doping claim
Last updated on .From the section Athletics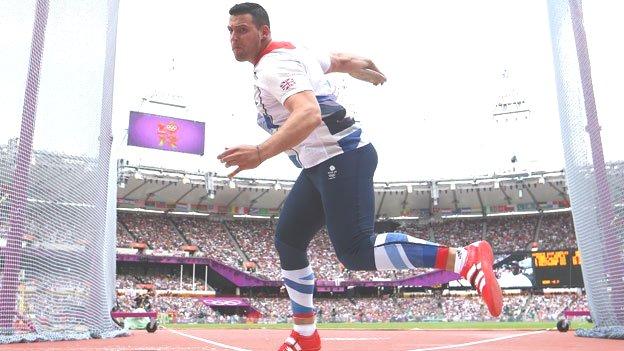 British discus thrower Brett Morse has told his Twitter followers he had been "stupid and immature" after accusing Belarusian women's shot put gold medallist Nadzeya Ostapchuk of doping.
Morse made the claim on Monday after he failed to qualify for the Olympics discus final and also tweeted: "I've had a bad day but it could be worse, I could look like Ostaptchuk [sic]."
Morse was told to remove the comments on Tuesday, and on Wednesday afternoon apologised, saying he had been "joking around and thought it was harmless".
He added: "It was very stupid and immature on my part... being an Olympian means a lot to me and I should know a lot better than to make accusations and stupid remarks about a fellow athlete. So once again sorry."
Morse's agent, retired athlete Jamie Baulch had told the athlete to remove the offending comments.
Baulch told the BBC on Tuesday: "He'll be more careful in future, this is a tough lesson for him. He's very upset and disappointed in himself."
On Monday, Morse, 23, from Penarth, had failed in his first attempt to meet the designated qualifying distance to progress to the final, or be among the top 12 throwers, earning a red flag as his toes strayed over the edge of the circle.
His only successful throw came at the second attempt, but he overstepped the circle again on his third and final effort and he departed the Olympic Stadium having failed to reach anywhere near his personal best of 66.06 metres.