Martin Brockman eyes Commonwealth Games glory
Last updated on .From the section Athletics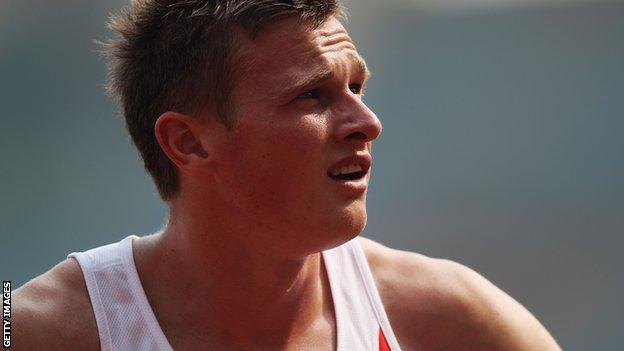 Maidstone decathlete Martin Brockman has targeted winning a medal at the Commonwealth Games after not being selected for the London Olympics.
The 24-year-old missed out to Daniel Awde for the one place on Team GB.
"I had a couple of weeks of wallowing in self-pity once I found out I wouldn't be going to the Olympics," Brockman told BBC Radio Kent.
"But you've got to have something to work for and my aim is to go and win another medal at the Commonwealths."
He added: "That is well within grasp. The first thing is to qualify and get on the team but after that you've got to set your sights higher."
Brockman, who won bronze in at the Commonwealth Games in Delhi two years ago, says he will continue training and compete at a lower level in a bid to improve his overall score.
"I've got a competition hopefully for England in a few weeks time and then I'm off to the Netherlands," he continued.
"I know I'm in good shape and I've still got a score in there. I have just got to get it out of me, even it's not at the Olympics.
"It's not the end of my career. I've still got the Commonwealth Games in two years time, another Olympics [in Rio de Janeiro in 2016] and the World Championships in between.
"You can't give up, you've got to dig in."
Brockman trained in Australia over the winter, funding the trip with family inheritance.
Since his return he says circumstances outside of his control have been to blame for frustrating results.
"I've been pleased with how I've done this year, it just hasn't happened in competition," he continued. "Out of ten events, I've got six personal bests, and I can't really ask for more than that.
"I was ill earlier in the year when I was trying to compete which I had to get over. And then when I had my last shot at it, it was windy and terrible weather."