British 10K: 25,000 set to race round London icons
Last updated on .From the section Athletics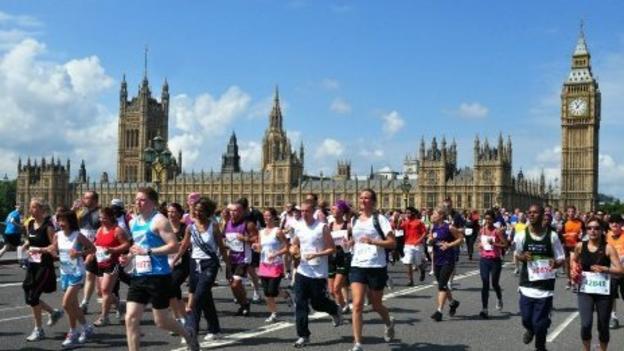 Main roads in central London will be closed on Sunday as 25,000 runners take part in the 2012 British 10K.
The field will pass some of the city's best-known landmarks including Big Ben, the London Eye, Trafalgar Square, St Paul's Cathedral and Westminster Abbey.
Last year's winner, Kenyan Bernard Rotich, is hoping to improve on his time of 29 minutes two seconds.
The course record of 28:12 was set by Ethiopia's double Olympic gold medal winner Haile Gebrselassie in 2005.
Sunday's weather is forecast to be sunny intervals with some light rain.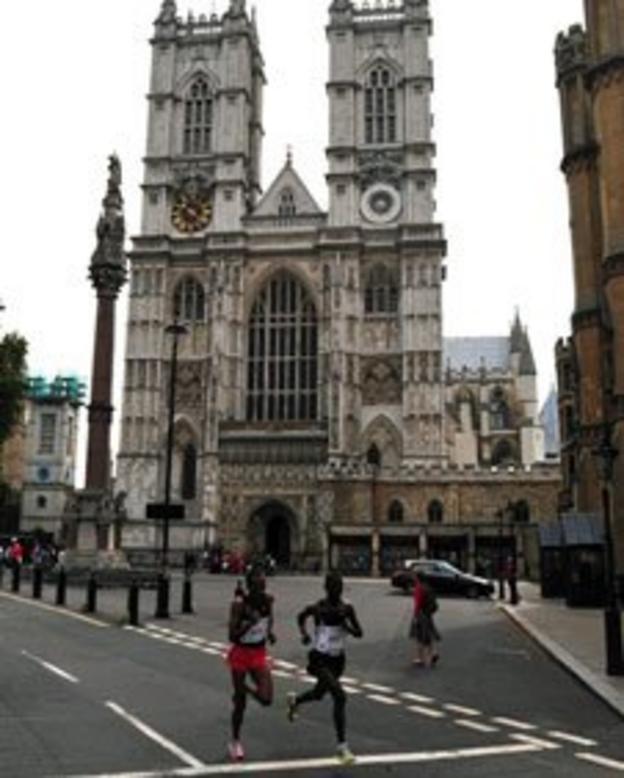 Rotich, 25, has two podium finishes to his name so far this year.
He was third in the IAAF Antrim XC in January and second in the Cinque Mulini IAAF XC in Milan in March.
Ethiopian Tewodros Shiferaw, who ran a very close second to Rotich last year and has a 10K PB of 28:53, will present a challenge to him.
Others expected to be in contention for top finishing spots are Rotich's countryman and Delhi 2010 Commonwealth Games 10,000m bronze medallist Joseph Birech, as well as Edwin Kipyego, who won the Reading half marathon in April.
The London race, now in its 12th year, is scheduled to start at Wellington Arch at 09:35 BST. The following roads will be closed between 06:00 and 13:00 BST:
Piccadilly; St James's Street; Pall Mall; The Mall; Cockspur Street; Northumberland Avenue; Trafalgar Square; Whitehall; Parliament Square; Broad Sanctuary; Victoria Street; Westminster Bridge; Victoria Embankment; Upper Thames Street; Puddle Dock; Queen Victoria Street; White Lion Hill; Blackfriars Underpass.
The 10k takes place 19 days before the Olympic Games open in London and four Olympians, Darren Campbell MBE, Katharine Merry, Anna Hemmings MBE and Graham Bell, are in the field.
Charity partner
They are all ambassadors for the event's official charity, Special Olympics GB, which is part of the Olympic family and encourages people with learning difficulties to join in sport.
Merry said: "I had never met someone with intellectual disabilities before I became an ambassador with Special Olympics - their athletes inspire me.
"10K is a very doable distance for anyone and a great way to raise money for a charity that makes such a difference in peoples' lives."
The charity hopes to raise more than £500,000.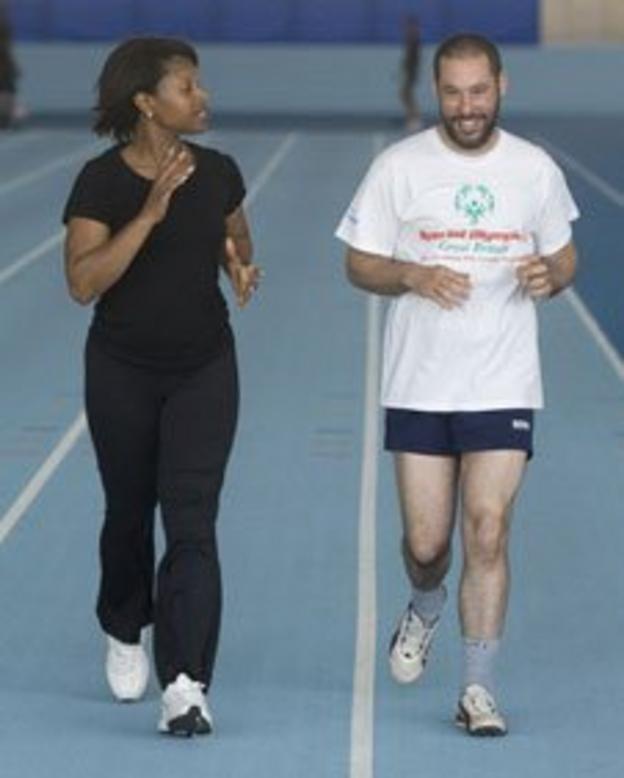 Among those benefiting from Special Olympics GB's work is James Mathiason, from Enfield in north London, who competes in the 200m and long jump.
James, 28, is autistic and has learned how to live independently, skills that helped him when he was caught up in the 7/7 bombings in London in 2005.
He was in the Tube carriage where a bomb exploded at Edgware Road and spent two weeks in hospital.
"I thought I was going to die," James said in a BBC documentary marking the seventh anniversary of the bombings in which 52 people died. "I was upset because I wanted to go to college still."
His coach, Margo Toppin, runs training sessions for him at the Lee Valley Athletics Centre.
"Our athletes work so hard and support each other all the way - that's what I take so much pleasure from," she said.