Weather is hindering my training, says Martin Brockman
Last updated on .From the section Athletics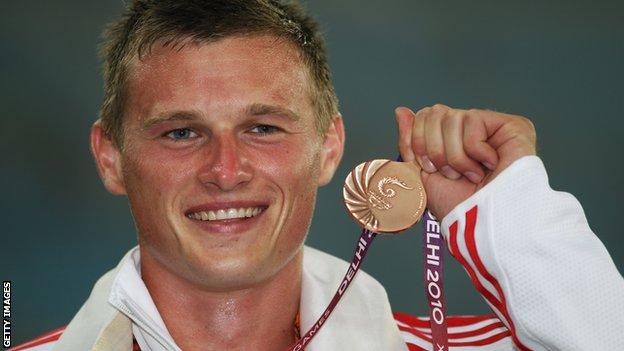 Maidstone decathlete Martin Brockman says the recent inclement weather is preventing him from training properly.
"It has been tough," he told BBC Radio Kent. "I planned to do a bit of gym work when I first arrived.
"But I've been struggling to fit in the technical work that I really want to at this time of year. I just need a bit of sun over the next few weeks."
Brockman added: "It's just maintaining what I did in Australia anyway so the hard work has been put in.
"It's not a lot of work to do, it's just finding the time to fit it in."
The 2010 Commonwealth bronze medallist was forced to withdraw from a decathlon in Italy at the start of May due to a stomach upset, but still set a personal best of 14.54m in the shot put.
But while many Olympic hopefuls could return from such competitions into the comfort of high performances centre in the wet weather, that option is not available to Brockman.
"I can do it indoors but it means a lot of travelling every day," he said.
"It's supposed to be competition specific and when you compete in Italy and Tenerife in the sun, practicing in the cold and rain isn't quite the same."
Brockman has just one major opportunity to achieve the qualifying standard for the European Championships at the end of June.
However, gaining selection for a national team at the last minute is something he is used to.
"I've always done better when I have that pressure," he said. "Qualifying for the Commonwealth games, I was injured all season and I had that one opportunity the day before they picked the team to go and do it. That's where I always perform my best."
"In Tenerife I'm going to have that same pressure, the last chance to qualify for the Europeans.
"There's going to be a lot of the top English guys there. It'll be competitive and I should raise my game and get a good score.
"I'll be happy to get to the Europeans but it's obviously just a stepping stone to get to the Olympics rather than the big competition of the year."