London 2012: Paula Radcliffe can't live in the past - Steve Cram

By Steve Cram
BBC athletics commentator
Last updated on .From the section Athletics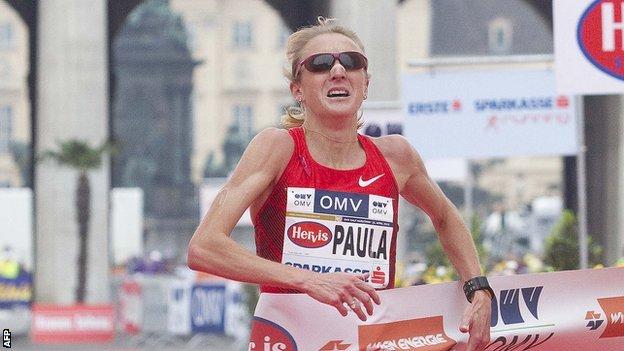 It will take Paula Radcliffe a few days to get over her performance in the Vienna half-marathon and she needs that time to take stock.
If she goes back to training, she has to be ready. She'll want to check that everything's OK and that there's no lingering illness within her. It is really hard, happening this close to the Games, but she has got to try to be positive and look forward.
It is difficult for Paula as there is a lot of pressure on her from the public, who want to see her run - and run well. But, although you have got benchmarks behind you, you can't race your past.
It was a bit of a risk for her to run in Vienna. I saw her the week before and she was reasonably upbeat, although she had missed a fair bit of training and she wasn't sure how it was going to go.
Now she needs to get healthy and get her confidence back, which can come either through training or racing. You have got to be careful about where you choose to race. The key is the next few weeks.
She wants to go on and have an enjoyable Olympic experience and all of us would wish that. Given where she's at, a lot needs to go right.
But the marathon is a hugely unpredictable race. It's not like the 100m when you know what's going to happen - it's a tough challenge for your body, you can't be 10% and then race hard.
She is fit but she needs training - so she knows, on the start line, that she will be in the race for the first 14 or 15 miles and not worry about "this or that" happening, or worrying about her body.
Knowing how she will perform is an impossible question to answer. Even in 2004, she was number one but preparations went terribly for Athens. To people on the outside, they all thought that she was going to win.
Paula would have known that it is not easy to deliver. When the runners line up, you don't know how their preparations have gone.
And, remember, in September she ran a good race in Berlin - two hours, 23 minutes and 46 seconds, her fastest since 2007. If she had built on that, it would be different.
One thing that does help is that - although there is pressure - the level of expectation has fallen away compared to what it would have been if this Olympics was taking place four or five years ago. She doesn't hide things these days when it comes to injuries.
I don't think that she is carrying on running just because of these Olympics. Enjoying it is the key; waking up and wanting to compete and having the hunger. If you're 39 and still going then that's great because you are a very long time retired. There's no age limit.
But your body isn't always going to play ball and, for athletes in the latter stages of their careers, it's frustration that eats away at you.
We all wake up one day and know "I don't have the same desire because my body can't do what I want". It's a very personal thing. There's no point in people around you saying "you should quit".
I had a young family and your priorities change. But, if your priorities are still World Championships and the Olympics, you want that.