Paula Radcliffe beaten by Haile Gebrselassie in half marathon
Last updated on .From the section Athletics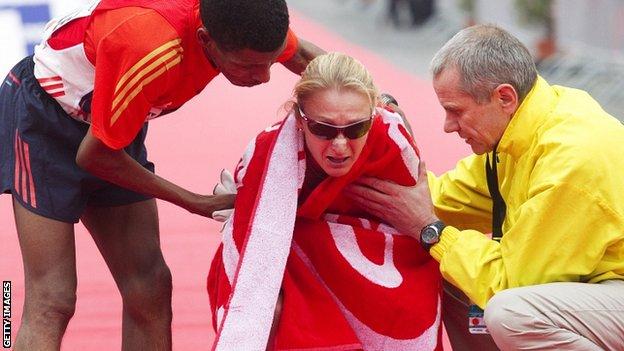 Haile Gebrselassie beat Paula Radcliffe in Sunday's head-to-head half marathon in Vienna.
The Briton had targeted a time below 70 minutes in the "Emperor versus the Queen" race.
However, she ended with a time of 1 hour 12 min 03sec, 11 minutes 11 seconds behind the Ethiopian.
"I am at a loss to explain why it was quite so bad. I still would have expected and hoped for a time in the 69s," she told BBC Radio 5 live.
Gebrselassie, who has not qualified for the men's marathon in London, finished in 1:00.52sec.
Radcliffe had a head start of seven minutes 52 seconds in the 13.1 mile race, which is the difference between their respective personal bests.
Radcliffe, who viewed the race as an important part of her preparation ahead of the Olympic marathon on 5 August, set a good early tempo and passed the 5km point in 16:13.
After surprisingly running past his pacemaker, Kenyan Philemon Rono, Gebrselassie upped his pace and passed the 5km mark in 14:12.
Having reduced the gap to only 3:42 at the 9km mark, the Ethiopian was well on target to pass Radcliffe with ease.
He did so at 15.3km, waving an encouraging arm to her as he ran past. But the Briton's pace had slowed to a long way behind her personal best.
She eventually finished well behind the two-time Olympic 10,000 metre champion, and appeared to shed tears of frustration after posting her slowest ever time for the half marathon.
The women's marathon world-record holder has not been in the best of health in the last fortnight, tweeting on Friday that she was relieved to have made it to Vienna after a bout of bronchitis and pleurisy.
She said the illness had been a factor in her slow time, but feels she should still have run far quicker.
"I know that racing on antibiotics isn't the best idea, and that is why I did not expect fireworks coming in," she added.
"The format of the race meant that I could not stop, even though I felt really bad, so I tried to just keep going. I tried to zone out and just get through it. That it was I did, and I feel a bit shaky now.
"The thing that worries me is that I did not feel myself out there while running. The danger is that it affects my confidence [for the London Olympics]."
However, the 38-year-old insists that she is entirely focused on the Games, and will use the races between now and August to rebuild her morale.
"I am not giving up on it by any means," she said.
"I think I need to get out and race and feel like myself. The 10kms that I race, and if I do race a half marathon, are a build up for the [Olympic marathon].
"They are not races for running as fast as I can in their own right. But I still want to go out and feel strong and feel good."