Geoffrey Mutai must prove himself again to make London 2012
By Alistair Magowan
BBC Sport
Last updated on .From the section Athletics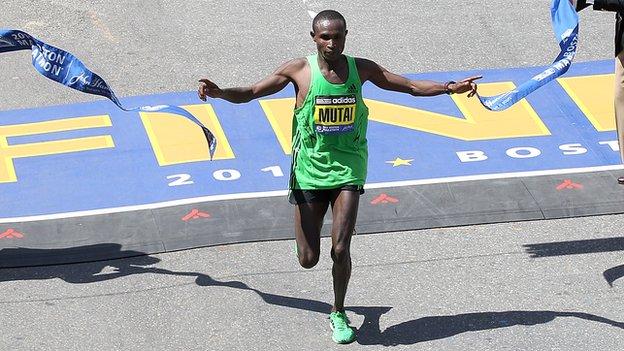 Last April, Geoffrey Mutai won the Boston marathon in the fastest time ever recorded and still he does not know if he will compete for Kenya at the 2012 Olympics.
Not only that, the 30-year-old returned to the United States in November and knocked more than two-and-a-half minutes off the 10-year-old course record in New York.
But such is the strength of the Kenyan marathon team attempting to qualify for London that, despite some awesome feats in recent months, no-one is guaranteed a place.
Three runners will be selected from a shortlist of six, including Mutai, and all of them are capable of taking the gold medal on 12 August.
So in order to prove their ability to selectors, who will make their decision at the end of April, many of the contenders must take to the streets again this spring.
Mutai will return to Boston on 16 April, the scene of his world-best time of two hours, three minutes and two seconds.
It was a mark that bettered countryman Patrick Makau's world record (2:03.38) by 36 seconds.
But because Boston does not qualify for official world records - its start and finish are further apart than 50% of race distance, and the overall loss of elevation is greater than permitted by the International Association of Athletics Federations - his time has not entered the record books.
Unperturbed by the technicalities, Mutai is aiming for a more modest achievement this time and is wary of thinking too closely about an Olympic debut.
"I've never been to London but every day I think, 'I would like to run there,'" Mutai told BBC Sport from his training base in Eldorat, Kenya.
"At the minute I am focusing on the next race. If I qualify it will be a great chance for me, but maybe I will say more after Boston. If I win, I hope I will qualify.
"I cannot say I'm going to run the fastest time in Boston again because last year was not easy. I am just going to Boston to win."
Racing a marathon just four months before London is hardly ideal preparation, but Mutai is not alone.
Emmanuel Mutai, who finished second to his namesake in Boston and also broke the London marathon record last year, will return to England's capital to race on 22 April.
And he will be joined on The Mall by fellow countrymen Makau and double world marathon champion Abel Kirui.
Also in the running is Wilson Kipsung, who has clocked 2:03.42, just four seconds slower than Makau's world record, and Moses Mosop, who was four seconds behind Geoffrey Mutai in Boston.
This incredible race to make the team will be given added poignancy after the tragedy of Sammy Wanjiru.
He became Kenya's first Olympic marathon champion in Beijing four years ago but then fell to his death, aged 24, in May 2011.
So Kenya will be looking for a new marathon hero and, in Geoffrey Mutai, it is clear they have a special son.
His path to prominence has been unconventional. He first qualified to run at the World Junior Championships, aged 21, but could not compete because he did not have a passport, and later in 2002 he gave up running because of injury.
But after successful treatment for a tendon problem he began running before work, even though he became a tree cutter for the country's electricity provider, Kenya Power.
That came to an end in 2005 and, realising that "running was in his blood", he began to increase his workload again and made his belated marathon debut in Eldorat in 2007.
He clocked 2:12.40 the following year in Monaco, aged 26, and once he had lopped nearly five minutes off that time later that year in Eindhoven, it was clear he was heading to the top.
Nevertheless, progressing from 2:07.00 to the heights of his 2011 performances is still a quantum leap in marathon terms, something Mutai ascribes simply to hard training.
"I don't have a coach, I train myself," he said. "I train with a group when I go to my camp and I train again with another group.
"Depending on the programme and the day, maybe sometimes we go 35km per day, but most of the time we are up to 260km a week. Sometimes it is more. The training is everything for me."
Despite his relatively late emergence, Mutai is hoping to emulate another east African great who has continued to excel as a veteran.
A legend on the track, Ethiopia's Haile Gebrselassie was also the holder of the marathon world record broken by Makau in Berlin last year, but the two-time Olympic 10,000m champion is struggling to qualify for the Olympic marathon.
"Haile Gebrselassie is a hero of mine," Mutai said of the 38-year-old. "I saw him when I was in school and a lot of the time I thought I want to be like him.
"I see that he might retire but maybe he will be at the Olympics and that will be a great chance to meet him.
"Even though he is not my countryman, I like him because he competed for all these years and I have never seen an athlete who has gone on as long as him. That is what I am aiming to be: like Gebrselassie.
"For me, I cannot say that age matters. It is up to you to keep your discipline and your training."
Few outside the marathon community may have heard of Mutai up to this point, but he could be one of the true stars of London 2012 - so long as he can win the race before the race.
With three rivals for the Kenyan team competing nine days after he appears in Boston, he may have to produce a special feat once more.