Oscar Pistorius hopes to have place at London Olympics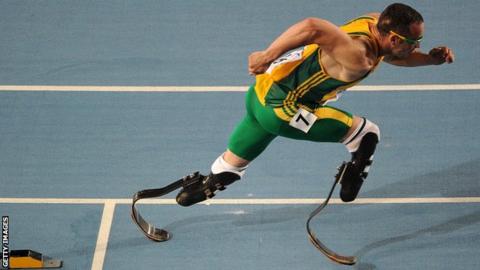 Oscar Pistorius hopes to have done enough to qualify for the London Olympics after again running the 400m 'A' qualification time.
In November, South Africa's Olympic Committee (Sascoc) said their athletes must run the qualifying time three months before the Games.
Double-amputee Pistorius, 25, ran a time of 45.20 seconds, just inside the qualification standard of 45.30.
"This is a huge moment for me and I am trying to take it all in," he said.
Pistorius, who runs in carbon fibre blades, beat the qualifying time in July, earning a place at the 2011 World Championships to become the first amputee to compete.
Sascoc chief executive Tubby Reddy said if he ran it again within three months of the Games, which start on 27 July, he would qualify.
Pistorius achieved the required time at the Provincial Championships for Gauteng North in a selection event for the South African National Championships.
He added: "I am absolutely thrilled to have run the Olympic qualification time.
"I am looking forward to hopefully being confirmed by Sascoc as a member of the South African Olympic team and I will do everything I can to train and prepare to the best of my ability.
"I would be proud to compete for my country at the Olympic and Paralympic Games."