London 2012: Banned Chambers and Millar 'could compete'

By Gordon Farquhar
BBC sports news correspondent
Last updated on .From the section Olympics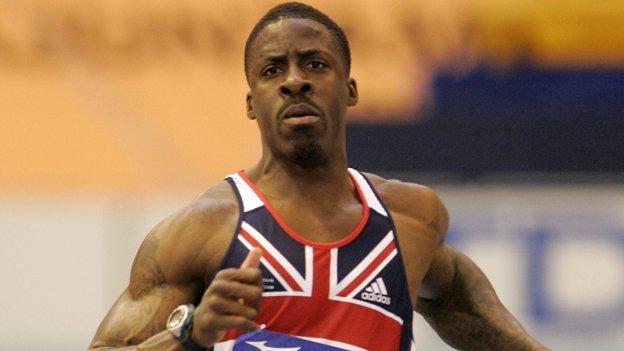 Dwain Chambers and David Millar will be free to compete for Great Britain at the London Olympics, according to a leading sports lawyer.
The pair are currently banned because of a British Olympic Association (BOA) by-law which prevents drug cheats from competing at the Games.
However, lawyer Howard Jacobs predicts that the by-law will be ruled invalid following a special hearing on Monday.
If that happened, sprinter Chambers and cyclist Millar would be eligible to wear a Team GB vest this summer.
The BOA goes to the Court of Arbitration for Sport (Cas) to challenge a ruling from the World Anti-Doping Agency (Wada) that its by-law is not compliant with the Wada code and is therefore unenforceable.
The by-law was introduced more than 20 years ago and has kept a number of British athletes, among them Chambers and Millar, out of past Olympics.
The BOA says its rule is not a sanction but is part of its selection policy. It also argues that it is entitled to decide who can and cannot represent the nation.
However, Jacobs, who helped American 400m runner LaShawn Merritt overturn his Olympic doping ban, believes the BOA will end up on the "losing side".
He told BBC Sport: "When I heard the BOA's response to the Cas decision, what they were saying sounded a lot like what the International Olympic Committee were saying, trying to characterise the rule as an eligibility rule as opposed to a sanction.
"It was exactly the same thing as the IOC did in our case, so it strikes me that this type of characterisation is not likely to be successful."
Jacobs was instrumental in helping Beijing gold medallist Merritt win his case against the IOC whose Rule 45 barred any athlete who had received a doping suspension of more than six months from competing in the next Games.
The 25-year-old Merritt, who was given a two-year suspension later reduced to 21 months for failing three tests for a banned steroid in early 2010, argued it went beyond Wada sanctions of a maximum two-year ban.
The case went to Cas, who judged that the IOC's rule did amount to an additional sanction and therefore was not legitimate.
Jacobs believes it will be the same outcome when the BOA presents its case on Monday.
"I think it's most likely that the rule will be found to be a sanction," he said. "Then it will be a question, as it was in our case, of whether the rule is invalid.
"Essentially, all the anti-doping rules are bound by the concept that the penalty has to be proportionate to the offence.
"As you start adding additional penalties, you get closer and closer to the point where perhaps penalties are disproportionate.
"One of the arguments made in our case was that if the IOC and others want a rule like this, then the way was not to introduce it unilaterally but to attempt to go through the Wada process and have a debate among stakeholders.
"The legal minds could weigh in as to whether that type of rule would be enforceable or not."
Monday will not be the first time the BOA has been before lawyers to defend its position.
Chambers, 33, attempted to challenge the by-law through the High Court before the Beijing Olympics in 2008, but his case failed.
The BOA has insisted from the start it believes it has a strong case that it will defend vigorously.
However, Jacobs says excluded athletes like Chambers ought to feel encouraged this time.
"Frankly, Dwain Chambers, his situation was nine years ago," said Jacobs.
"He's served his penalty, he's come back, he's allowed to participate as a member of other British teams.
"To me, it doesn't make sense that you're going to keep him out of the biggest competition for his sport and somehow say that's not an additional sanction."
Listen to London Calling on BBC Radio 5 live Sport on Thursday, 8 March (2000-2130).