London 2012: Steve Cram says Holly Bleasdale has made great strides

By Steve Cram
BBC athletics commentator
Last updated on .From the section Athletics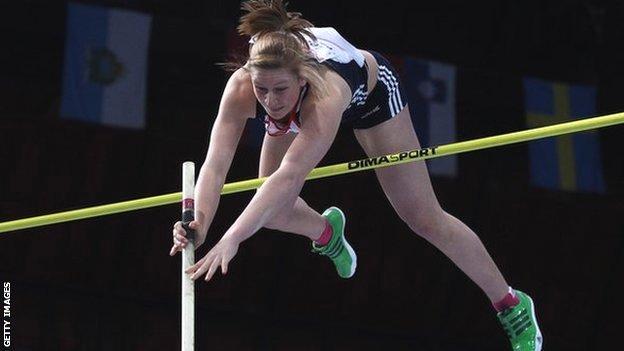 The indoor season certainly wasn't for me.
The circuit wasn't very well developed in the 1980s when I was competing, but as it's grown over the years, it's interesting that more athletes have chosen to use it as part of their winter preparation.
British pole vaulter Holly Bleasdale has had a great start to Olympic year indoors, but if you compete and things don't go well it can impact your confidence levels and there isn't much time before the start of the outdoor season to pick yourself up again.
It recently happened to US runner Jenny Barringer Simpson. She became a surprise world champion in the 1500m last year and ended the season full of confidence.
But when Simpson ran in her first race of 2012, a 3,000m at an indoor event in Boston, she tried to take on Ethiopia's 2004 Olympic 5,000m champion Meseret Defar and it didn't go well.
Initially Simpson stayed with the race leaders, but in the last 800m she completely blew it and was passed by all and sundry to finish last.
That was a gamble that didn't work for her and of course now she's wondering 'is my training going well? Am I fit? Why did that happen?'
All of a sudden you're five weeks into the Olympic year and having your resolve tested.
On the positive side, indoor competition can be a fantastic way of taking yourself through into the summer because you know the various components for you to compete well are in place.
Bleasdale would be a great example if she continues her form because she's been a stand-out performer for Great Britain in 2012.
The 20-year-old recently catapulted to third on the all-time indoor list when she lept to 4.87m at a meet in Lyon.
The question mark for her last year was her big-match temperament - she didn't do so well at the World Championships in Daegu last summer - so imagine if she won a medal at the World Indoor Championships in Turkey next month (9-11 March) or was even close to a medal?
That would give her such a lift and help her enormously for the Games.
As an athlete you have to weigh up the risks. If you decide to do an indoor season, particularly if you're targeting the World Indoors, it's got to be a good result.
If it doesn't go to plan then you have to assess why. Perhaps it was a case where the athlete is in heavy training so not quite race sharp.
Or it might be that the athlete is carrying a niggle, as we saw with Andy Turner aggravating his achilles at the international match in Glasgow recently.
But if it doesn't go to plan, you have to not panic. Go back a couple of steps. The Olympics begin in August for athletics so you can build up again.
It used to be the thing to say that if you want to win a gold medal in the summer, you don't go and try and win the World Indoors because there wasn't a very good correlation. But that's changed in recent times.