Jessica Ennis will repair Daegu misery in London, says coach
Last updated on .From the section Athletics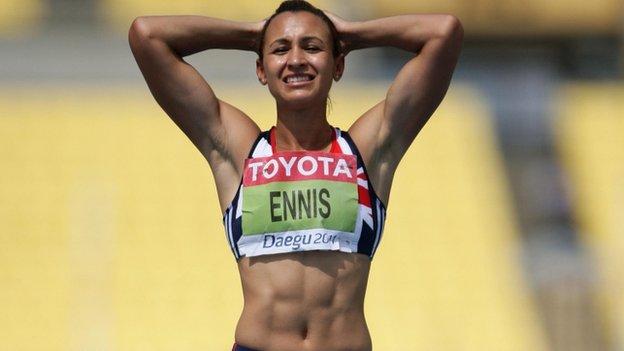 Jessica Ennis is on course to shrug off the misery of her silver medal at the World Championships when she competes at London 2012, according to coach Toni Minichiello.
Six months from the start of the Olympics, Minichiello claims Ennis is desperate to put that right.
"She's really hungry," he said. "A lot of that is fuelled by what happened in Daegu and finishing second."
Ennis, who turns 26 on Saturday, steps up her preparations for London when she competes in the McCain Indoor City Challenge in her hometown of Sheffield next weekend.
She then has the national indoor championships before heading to Istanbul for the World Indoor Championships on 9 March.
Ennis, who missed the 2008 Olympics in Beijing due to a broken foot, is seen as one of Great Britain's major medal hopes in London.
Her first major title was taking gold at the 2009 World Championships in Berlin but she lost her crown in South Korea last year.
Ennis beat gold medallist Tatyana Chernova in five of the events but a poor performance in the javelin proved crucial.
Minnichiello maintains that only fine margins thwarted Ennis in Daegu and that her build-up for London is going well.
He told BBC Radio 5 live: "We're trying to use [Daegu] as a positive - as a reset button -and move forward.
"There was an expectation in Daegu, going in as world number one. It was assumed that she'd won it.
"Even I got tied into that and was thinking that as long as she turned up she'd win it. But clearly that's not the case. You've got to get out there and work hard up to the day and on the day.
"Coming back from Daegu, I was scribbling things down in notebooks to change this and change that for about a week, and then and one very wise individual told me that all the work was done.
"She was in the best physical shape of her life in Daegu. She hit the hurdle two and hurdle eight in the first event, didn't get a lot of warm-up for the high jump, the javelin was naff by her usual standards, but we've learnt from that."
Minichiello admits he rarely discusses the importance London 2012 with Ennis, but he accepts it is difficult to play down the significance of the event in her career.
He said: "Having missed 2008, the Olympics is big and, looking at her age, this might be her only Olympics.
"She'll be 30 by the time Rio comes around so it's a question mark as to whether her body will stand up to doing heptathlon training by the time 2016 comes around. So there is a bit of all or nothing in 2012.
"I try to play down the Olympics as being a very small sports festival in London.
"By looking so far ahead you can lose sight or what's right in front of you. There are enough people talking about London that I don't need to add to it."