London 2012: Triple jumper Samyr Laine gives Haiti hope
By Jimmy Smallwood
BBC Sport
Last updated on .From the section Athletics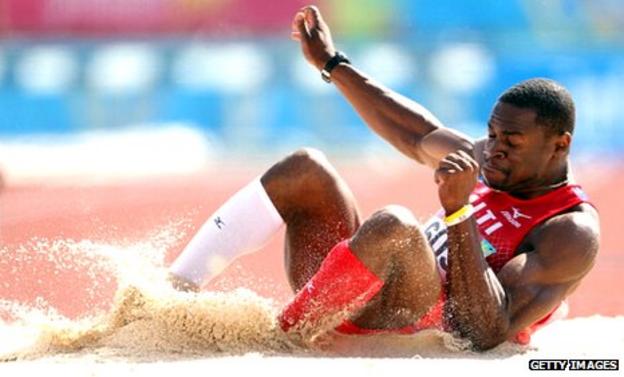 At six foot two and weighing 185 pounds, triple jumper Samyr Laine seems every inch the all-American New Yorker he is by birth.
Yet Laine, who combines athletic prowess with a university education and qualifications as a lawyer, is fiercely proud of his adopted country of Haiti.
The tiny Caribbean state is still recovering after a huge earthquake left one million Haitians homeless in January 2010, and Laine hopes to play his part in that process by starring at the Olympic Games in 2012.
"Both my parents were born in Haiti, so that's how I'm able to compete for them," Laine told BBC Sport.
"I am a US citizen but when it comes to competing or representing Haiti I feel I am an ambassador on an international level. I wear my red and blue on my sleeve and the country is near and dear to me."
Aside from his track and field ability, Laine is a highly intelligent and driven individual.
For many years he combined training with studying at first Harvard University and then the University of Texas in search of legal qualifications. Last autumn Laine passed the New York bar exam, allowing him to practise as a professional attorney.
"My legs have an expiration date and my legal qualification and bar admittance don't," said Laine, explaining that at present his sporting career is the priority.
In such a competitive industry, Laine has had to combine his studies with continuing his development on the track. For many years he competed at Diamond League events against rivals who were able to commit to the sport full-time.
Only in the last 18 months has triple jumping taken over his life.
"Track and field wasn't a detriment to my law studies. Law school did detract from track and field for a little bit," Laine conceded.
"I'm fortunate now to be on the same level as the people I'm competing against. Now I consider myself a full-time triple jumper on a par with my competitors, I feel I have the ability to make some noise in London."
Although Laine's performance at the 2011 Pan American Games was disappointing - he failed to make the final - he still has high hopes for the year ahead.
As such a big part of a small Olympic team - "when London comes around I might be the only Haitian athlete" - Laine knows his individual endeavours can shine a light on the serious plight suffered by his countrymen in recent times.
"My family was affected by the earthquake," he said. "I have grandparents in Haiti and aunts and uncles too. It was a pretty nerve-wracking time for us. Fortunately everyone was OK and everyone survived, which was a blessing."
Not every Haitian was so fortunate. The massive quake - measured at 7.0 on the Richter scale - and the 52 major aftershocks in the days that followed, killed 316,000 people, injured 300,000 and left one million homeless, according to government estimates.
Feeling a sense of solidarity as well as responsibility, Laine travelled to the poorest nation in the Americas two months after the natural disaster struck.
"I visited in March of last year because, competing for Haiti and the impact I can have and the good I can do for the country, it's a duty of mine to help and give back as much as I can.
"I wanted to go and help out and answer the helplessness I felt. I wanted to go down there and do some good."
"Doing some good" involves representing his adopted nation at the biggest sporting party on the planet this summer.
It's true to say that when, in 2007, Laine opted to compete for Haiti at the Pan American Games in Rio de Janeiro, he did not expect to develop so quickly. There's a school of thought that the athlete of 2011 could have qualified for the far larger United States team.
Laine understands the point, but wouldn't have it any other way. "We definitely don't have a team like the United States where you have 500 or 600 athletes.
"We are able to have a lot larger impact in terms of what we can do for Haiti, the children of Haiti, the people back in Haiti. Even our small successes become big news in Haiti, which means a lot."
The 27-year-old's sights are set on London and he cannot wait to compete on the global stage, saying: "The Olympics is the pinnacle of achievement.
"Getting there is the best of the best. The notion of the Olympic movement and the role athletics plays in the movement makes the Olympics that much more special and that much more to strive for."
Laine hopes to achieve personal bests in his quest to win Haiti's first Olympic medal since 1928. However, he has broader aspirations and a message for the Haitians back home.
"My goal is to make them proud out there next summer," he said.
"Just going there, competing well, being in the final, so that people can look at me and smile and know that I put my best foot forward for the country."