Michael Johnson wants single Olympics ban for drugs cheats
Last updated on .From the section Athletics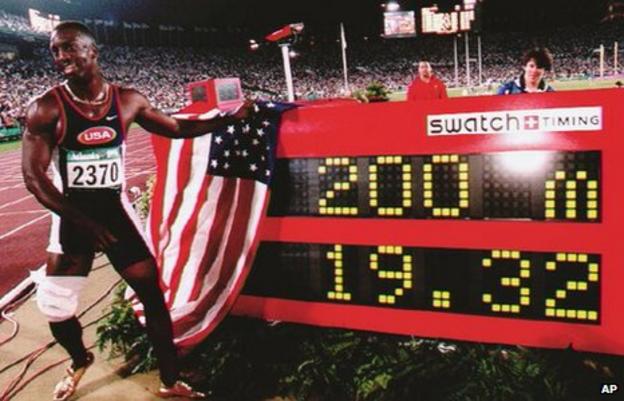 Former Olympic champion Michael Johnson has called for athletes who fail a drugs test to be banned from the next Olympic Games.
British drug cheats are banned from all subsequent Games by the British Olympic Association, but other countries pick athletes who have served drugs bans.
Johnson told BBC Sport: "I'm not sure if a lifetime ban is actually fair.
"But it would be more of a deterrent for people if they see that an athlete who cheats misses an Olympic Games."
A recent ruling by the Court of Arbitration for Sport (Cas) overturned an IOC ban that meant anyone who had received a doping suspension of more than six months was banned from the next Games.
That means that American LaShawn Merritt, who brought the case, will allowed to defend his Olympic 400m title at London 2012.
But the means the likes of sprinter Dwain Chambers and cyclist David Millar will not be able to compete in London.
"At the moment, an athlete can be banned for two years and then come back and compete in an Olympics," added Johnson.
"Take LaShawn Merritt for example, he won't miss an Olympic Games.
"But then give that athlete a second chance. Everyone deserves a second chance, even cheaters."
Johnson, 44, won five gold medals at three different Olympics before retiring from sprinting in 2001.
However, he gave back his medal from the 4x400m relay in Sydney in 2000 when team-mates Tyrone Young and Antonio Pettigrew were both found to have cheated.