World Athletics 2011: Usain Bolt 'will still be showman'
Last updated on .From the section Athletics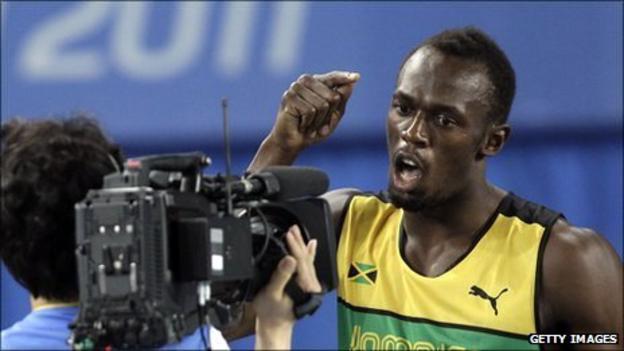 Usain Bolt's coach Glen Mills says the Jamaican sprinter will not stop his pre-race antics despite his false start in the World Championships 100m final.
Bolt, disqualified from the final in Daegu, was criticised for the way he behaved prior to the race amid suggestions it showed a lack of focus.
But as Bolt prepares for his 200m defence, his coach says the Olympic champion will continue to be a showman.
"That is the heart and soul of the man and he will not change," said Mills.
"He will do the same. It is not something that is a cosmetic thing."
Bolt, the 100m and 200m world record holder, gets a chance to make amends for his error as he looks to defend his 200m world title with the heats getting under way on Friday.
The 25-year-old Jamaican is famed for entertaining the crowd with his antics before his races, including gesticulating to the camera, but some critics believe he may not have been sufficiently focused before Sunday's race.
However, Mills dismissed this as rubbish.
"That is him, it is him," Mills told BBC Sport.
"That's his thing, it works for him. There is no perfect system. I don't think the false start had anything to do with his pre-race celebration. You could go into a race stone-faced and still false start."
Bolt himself has vowed not to dwell on the error, and Mills says his man is desperate to make amends.
"It shows you the passion of the man. He takes his competition very seriously," he added.
"He felt he not only let down himself but the millions of fans all over the world who were glued to their television expecting to see his performance.
"In time, he will be able to make up and repair that image."