Frostbite hits Justin Gatlin before World Championships
Last updated on .From the section Athletics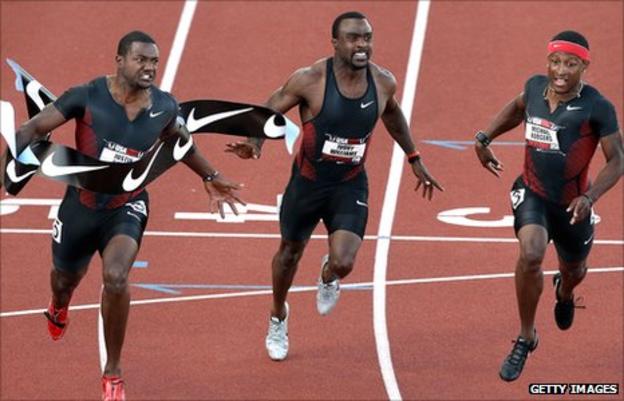 Former Olympic champion Justin Gatlin has arrived in Daegu for the World Championships suffering from frostbite.
"It's better than it was. It was all pussed up and blistered. It bubbled up and it stayed bubbled up for a good four or five days," he said.
"The confidence is rising. I'm getting ready to get out and burn the track."
Gatlin won the 100m and 200m sprint double at the 2005 World Championships but in 2006 was banned for eight years - later reduced to four - after testing positive for excessive testosterone.
The American maintains that was the result of some testosterone-like cream that was massaged into his legs and said: "It was night and day for me. Now I'm trying to get back to where I need to get to, which is being successful on the track."
He returned to athletics in 2010 with a low-key victory in Estonia and secured his place in Daegu after being narrowly beaten into second place by Walter Dix at this year's US Track and Field Championships in Oregon.
Of his unusual injury he said: "There is a cryo (cryotherapy) chamber (where he trains) and I went in there on a hot day and had socks on and the socks were wet from sweat.
"I was only in there for two minutes, but for some reason the socks froze to my ankles. It felt like my feet were on fire... and it hurt to walk."
Gatlin, in his first World Championships since his double success in Helsinki six years ago, will compete in the 100m and sprint relay in South Korea.