I'm not a legend yet, says Jamaican sprinter Usain Bolt
Last updated on .From the section Athletics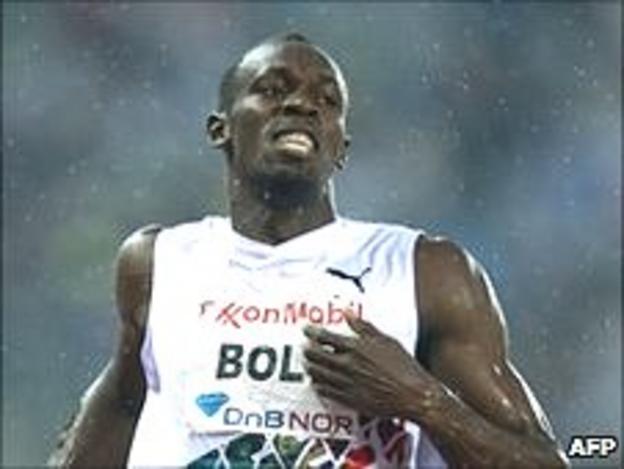 World 100m and 200m record holder Usain Bolt believes he still has some way to go in his career before reaching legend status.
The Jamaican, 24, is a three-time world and Olympic gold medallist but said he needs to retain his titles, starting at the World Championships next month.
"I think I'm one of the greats, definitely," Bolt told BBC Sport.
"But [to be] a legend in the sport I think I need to defend my titles. That's my personal goal."
Bolt, who makes his second 200m appearance of 2011 at the Diamond League meeting in Paris on Friday, added: "People have crowned me a legend already. I haven't really placed myself that high yet."
Bolt set new 100m and 200m marks by running 9.58secs and 19.19secs respectively at the 2009 World Championships in Berlin.
He goes to Daegu in South Korea hoping to retain both of his sprint titles, although he admitted to suffering from nerves before his sluggish 100m win in Rome in May.
"[My] nerves were really bad. I couldn't believe it. I was like 'This is how people feel sometimes'," said Bolt.
"It was something almost brand new for me. So it was kind of weird and messed my style up.
"The only good part of the race is that I won but everything else went wrong. But my second race went better."
The Jamaican insisted he would work hard in the build-up to the Worlds, which begin on 27 August, and not become complacent as he had done in the past.
"When you get to the top, some of the time, personally - I've been through this - you get relaxed [and say] 'Oh, I'm the best'," said Bolt. "You kind of sit back a little bit and then somebody surprises you. You don't want that as an athlete.
"So now I've got a lot of people, especially my coach, who's always on at me saying 'Don't let these guys get back at you' and 'You've got to work extra hard to keep the work up'.
"I've got good people around me to keep me level-headed."